There weren't too many people giving the Bears any kind of credit for picking up free agent cornerback Tim Jennings last season.  During radio interviews and on air appearances I had defended the pickup of Jennings saying that he was a starter in Indianapolis in a similar defense to the Bears so there was something there.  I even predicted that at some point he would be a starter.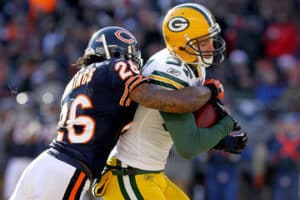 As it turned out, Jennings would end up being a starter for the Bears early on in the season after starter Zach Bowman proved that he couldn't play the position well enough to start.  Bowman could not play the run the way that the Bear's coaching staff wanted him to (he struggled to make tackles in the running game) so Jennings was their man.
Jennings, despite his size, was able to support the run well while making his part of the coverage in the secondary pretty much spot on.  Yes, he did have some breakdowns in coverage at times but for the most part Jennings did his responsibilities well.
With no new cornerbacks on the horizon right now it appears as if Jennings will battle it out with Bowman for that starting spot opposite Tillman this season.  Jennings does have the edge on Bowman thanks to his ability to play the run and his experience (he started games in Indianapolis before coming to the Bears) may dictate that Jennings will beat Bowman out for that starting spot opposite Tillman.
But the Bears could do better at the cornerback position but right now their best option at that position is Jennings.  Chicago didn't grab any depth at the cornerback position this offseason but did get some help at the safety position although that player, Chris Conte, might be a better fit on special teams for the most part.
So Chicago will walk into the 2011 season with pretty much the same group of players in the secondary that they had last year.
Is that the right scenario?
Charles Tillman is getting older and is not as effective as he once was in covering receivers.  Granted, he's been excellent at causing fumbles but his coverage skills are waning and he may need to be replaced in a season or two.
Jennings is undersized for the position but still has the skill to cover well and play the run.  He's probably the Bear's best bet opposite Tillman right now but he does give up the big play from time to time and has to get better about not missing his assignments in coverage.
Bowman may now be a permanent backup for the Bears especially if he can't beat Jennings out this summer.  Bowman was thought to be a pretty solid starter at the cornerback position and even though he had been injured in the past and hadn't seen a ton of time at the cornerback and now he may not see that much.
D.J. Moore had a breakout season of sorts last year and should see himself as the starting nickel back once again in 2011.  He's small and therefore will struggle defending against the run but he's not in there during running downs so it won't matter that much.  He's an opportunistic player with a good head on his shoulders and should continue to see success on defense for the Bears.
Three are some other players that the Bears have at the cornerback position including last year's draft pick Joshua Moore and undrafted free agent K.J. Gerard.  Chicago's coaching staff is said to be high on Moore so he may get a bigger look this offseason (and more playing time in the regular season) while Gerard will make a nice body in training camp that the Bears could sign to the practice squad if he shines.
Special teams superstar Corey Graham may end up remaining with the Bears but his primary role will be as special team's gunner rather than a cornerback.
So Jennings looks like he is going to remain the starter next season unless the Bears bring in some additional talent through free agency if there is free agency or some semblance of it.
Wouldn't Nnamdi Asomugha be a nice addition for the Bears?
For More Great Chicago Sports Content
Follow us on Twitter at @chicitysports23 for more great content. We appreciate you taking time to read our articles. To interact more with our community and keep up to date on the latest in Chicago sports news, JOIN OUR FREE FACEBOOK GROUP by CLICKING HERE