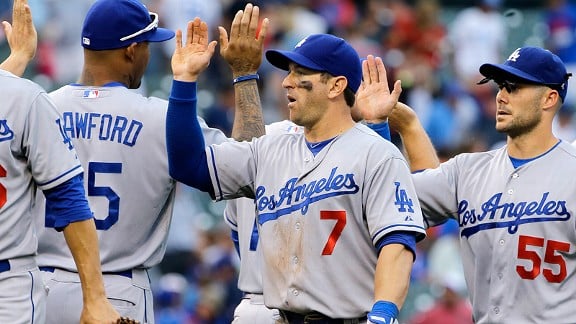 The Los Angeles Dodgers are winning, everywhere. The visiting club earned their 13th straight road victory today against the beloved Cubbies who recorded their 6th loss of their last 7.  Since the break the streaking Dodgers have found many ways to break the 89-year old record but today it was very much due to their arms.
Chris Capuano spearheaded the mission against Chicago's bats today, allowing just 6 hits over 6 1/3 innings of shutout ball. After 88 pitches, 62 of them strikes, he handed it over to a bullpen team of League, Belisario, Rodriguez, and Jansen whom all kept up pace with the starter.
The Cubs were able to set up several scoring opportunities throughout the game but unable to pull the trigger when it counted. They grounded out into 4 inning-ending double plays, not including a bases loaded opportunity in the eighth.
Most importantly, they failed to support their starter Jeff Samardzija in his 6 inning, 112 pitch effort. He allowed one run in the third and two in the second after walks and small ball would take its toll. Carl Crawford would be responsible for two of those earned runs while going 3 for 5 on the day.
Despite Samardzija's hit batter and five walks he would still strike out nine, making his command appearing more erratic than consistent. He was able to limit damage by retiring men during dangerous spots causing the Dodgers to go 2 for 12 with RISP.
For the second straight day the Cubs bullpen proved reliable. Hector Rondon, Mark Guerrier and Kevin Gregg each pitched a scoreless inning leading up to game's end.
Tomorrow Los Angeles looks to extend their streak while Chicago aims to avoid the four-game sweep. Zack Greinke (8-3, 3.43) will face Carlos Villanueva (2-7, 4.33) at 1:20pm.
For More Great Chicago Sports Content
Follow us on Twitter at @chicitysports23 for more great content. We appreciate you taking time to read our articles. To interact more with our community and keep up to date on the latest in Chicago sports news, JOIN OUR FREE FACEBOOK GROUP by CLICKING HERE