Since Cub closer Carlos Marmol became a full-time reliever in 2007, the erratic reliever had shown a particular soft spot for giving Cub fans high blood pressure throughout his appearances late in games, as he had shown the ability to shutdown opposing offenses in high-leverage situations while frustratingly blow games when victory was within the team's grasp. His use of his lights-out slider has been legendary within baseball circles (thrown over 55% past three years), but has the amount of sliders he's thrown finally caught up to him?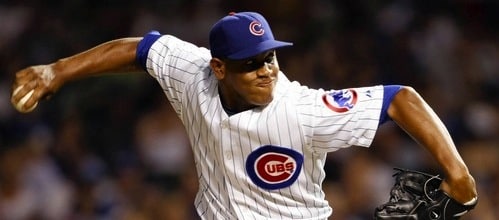 Marmol has become the Cubs' top reliever the past two seasons, overcoming his high walk totals with through-the-roof strikeout numbers. Hitters have also been unable to get any hits throughout the duration of Marmol's career–home runs or otherwise.
The 2011 campaign could show that Marmol is beginning his decline far earlier than the Cubs had hoped. Marmol's velocity has been about three mph slower on both of his pitches–a hefty concern for a two-pitch pitcher. Marmol's fastball velocity (typically in the 94 mph range) has been down to about 91 mph, and hitters are showing they can hit the pitch–pounding it for a negative run value thus far, while swinging and missing the pitch about 10% less than last year.
Marmol's slider has shown a similar decrease in velocity, although the pitch hasn't lost any effectiveness thus far.
Carlos Marmol came into the year with a nice three year extension, although the decrease in his fastball effectiveness (at a relatively young 28 years-old) could decrease the maximum value the Cubs could gain out of the deal, especially in 2013 when the Cubs are set to pay Marmol $9.8MM.
For More Great Chicago Sports Content
Follow us on Twitter at @chicitysports23 for more great content. We appreciate you taking time to read our articles. To interact more with our community and keep up to date on the latest in Chicago sports news, JOIN OUR FREE FACEBOOK GROUP by CLICKING HERE