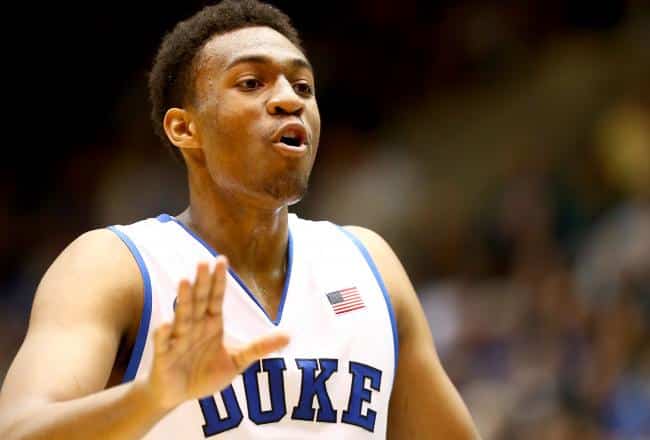 Hello and welcome to Chi City Sports' first annual Staff Mock Draft. CCS writers Arik Wonsover, Zach Graham, and I took turns acting as GM's for a day and this is how it turned out. Remember, we drafted based off who we would take in that position, NOT who we think will actually be drafted in that spot come Thursday night. This draft turned out to be much different than most mock drafts out there (sorry, I love Aaron Gordon). With that being said, enjoy.
1.) Cleveland Cavaliers- Jabari Parker
Arik- I might be a little biased since Parker is a Chicago kid, but I think the Cavs need to pick the best player available and that's Parker. Parker will give them instant offense, a high character, and he should be a 20 PPG scorer for years to come.
2.) Milwaukee Bucks- Andrew Wiggins
Zach-I think Cleveland ultimately goes with Andrew Wiggins at number one. He has the highest upside of the two and with their recent draft history, I believe Wiggins is their man. With Parker off the board with the first pick, Wiggins is the clear-cut number two pick here. If Wiggins goes 1, obviously Parker will be picked 2nd.
3.) Philadelphia 76ers- Aaron Gordon
Mikey- Yep, I just went there. This may come as a surprise, but I love Gordon's game. He's a freak athlete that also has playmaking abilities and defensive awareness. He would thrive in the fast-paced offense that the 76ers utilize. Philadelphia might be better off dealing this pick if they are tempted to reach at No. 3.
4.) Orlando Magic- Marcus Smart
Arik- Gordon to the Sixers might seem like a reach to some, but not for me. I have Gordon third on my big board and I think he gives the Sixers high potential with less risk than Joel Embiid at that spot. If Marcus Smart had declared for the draft last year he would've ended up with this same team at No. 2. Smart might end up being the Luis Suarez of the NBA—a hot head that can straight up compete. Smart is a tweener in the mold of Tyreke Evans, but he can defend three positions and get to the rim at will. The Magic desperately need a point guard and I think Smart is the safer pick over Dante Exum.
5.) Utah Jazz- Noah Vonleh
Zach- Vonleh is loaded with potential and he is also the best PF in the draft. Utah gets a high-character, high-upside guy in Noah at the 5th pick.
6.) Boston Celtics- Dante Exum
Mikey- Exum is an easy choice here. I know Rajon Rondo is still in Boston, but he'll be a trade candidate come draft night. Exum has the chance to be special with his size, youth, and ability to get to the rim.
7.) Los Angeles Lakers- Julius Randle
Arik- It's pretty amazing, just a few days ago Embiid was a lock for the first pick and now he's fallen out of our top 7. Kobe wouldn't be too happy with the Lakers drafting a guy who can't help right away, so Embiid isn't a fit here. At 19 years old, Randle already has an NBA post game and he grabs every board. He can be a solid starter for LA right off the bat.
8.) Sacramento Kings- Joel Embiid
Zach- The Kings will take the risk on Embiid if he's there at No. 8, if they keep the pick. If Embiid can stay healthy, the Kings could have the best frontcourt in the league in three years.
9.) Charlotte Hornets- Gary Harris
Mikey- Gerald Henderson just isn't going to cut it long term at the 2. Harris will be an above-average defender from Day 1 and also has a pretty stroke. He reminds me of Bradley Beal, who just had a breakout season for the Wizards.
10.) Philadelphia 76ers- Nik Stauskas
Arik- If I'm Philly, I'm already thrilled with Gordon at No. 3. I'm looking to unload this pick along with Thaddeus Young to possibly move up or even try to move down. The Sixers need a lot of things but one thing they definitely need is a shooter. I don't love Stauskas but he's the best shooter available here. I would've loved to take Elfrid Payton here but he just isn't a fit with MCW already handling the point guard duties.
11.) Denver Nuggets- Zach Lavine
Zach- Nuggets will go with a shooting guard to pair with Ty Lawson. I could see them going with either Harris or LaVine, but if Harris is off the board and LaVine is available, they won't be able to pass up on a talent like that. LaVine is one of the best athletes in this draft and will be flying high in Denver if the Nuggets get him at 11.
12.) Orlando Magic- James Young
Mikey- Young won't be a star right off the bat, but he projects to be a lights out shooter and deadly scorer. He was up-and-down during his freshman campaign, but he showed loads of potential at times. With Arron Afflalo potentially being dealt, Young could see some early playing time.
13.) Minnesota Timberwolves- Doug McDermott
Arik- With Kevin Love almost out the door, the Wolves need instant offense in their frontcourt. McDermott can make up some of the scoring and shooting lost by Love's departure, but he won't be much more than a dependable starter. I wanted Payton here yet again but he just doesn't make sense next to Ricky Rubio.
14.) Phoenix Suns- T.J. Warren
Zach- Warren is a big time scorer who is NBA ready. He has ideal size for an NBA SF and while the Suns don't exactly need another scorer, they do need a SF. With primarily offensive weapons Dragic and Bledsoe facing an uncertain future, look for the Suns to grab a scoring wing with this pick.
15.) Atlanta Hawks- Clint Capela
Mikey- When someone is getting Serge Ibaka comparisons, you at least have to listen. Capela projects to be a ridiculous shot-blocker with a knack for scoring around the bucket. Capela can grow into a nice complement to Al Horford.
16.) Chicago Bulls- Dario Saric
Arik- Man is it tough being a GM—I have Payton 10th on my big board but he's still not a fit on my hometown team. I think the Bulls will be thrilled if Saric manages to fall to them. Chicago has had success with stash picks in the past with Omer Asik and Nikola Mirotic. The Bulls top target this offseason will be Melo. They'll simply want an asset with this pick.
17.) Boston Celtics- Elfrid Payton
Zach- I highly doubt they grab Payton if they draft Exum at 6, but with a future backcourt at 6-4 and 6-6 with so much potential, Rondo immediately becomes expendable. Rondo can be used to acquire Love or another solid veteran SF, PF, or C. Avery Bradley can man the 2-guard for the time being and a future backcourt of Payton and Exum is very intriguing.
18.) Phoenix Suns- Tyler Ennis
Mikey- The Suns have three first-round picks, so no position is out of the question for them. Even with Goran Dragic and Eric Bledsoe in the backcourt, Ennis would provide the Suns with a more traditional point guard. Ennis' maturity during his freshman season at Syracuse was something to behold, as was his outstanding passing instincts. Don't be surprised if he leads the league in assists one day.
19.) Chicago Bulls- Jusuf Nurkic
Arik- I gotta say, I'm doing my city proud with these picks. Nurkic is another potential Euro stash but he has ridiculous value this late in the draft. Nurkic put up video game numbers in the Adriatic League and can be a Nikola Pekovic type with even more upside.
20.) Toronto Raptors- Shabazz Napier
Zach- Ennis is no Steve Nash. He may possess great passing instincts, but it would surprise me a lot if he came close to leading the league in assists. At No. 20 if Napier is on the board, he's going to Toronto. With Lowry and Vasquez free agents this summer, they bring Napier in, and he will provide an immediate spark at the PG position. This pick has Napier written all over it.
21.) Oklahoma City Thunder- Jordan Adams
Mikey- I know this is a reach at No. 21, but Adams was sensational at UCLA. He's only 19 years old but he's already developed a savy offensive game. He's also terrific at picking up steals with his 6-foot-10 wingspan. Adams might help Thunder fans finally get over the James Harden trade. Well, probably not, but I still think he's a great fit in OKC.
22.) Memphis Grizzlies- Adreian Payne
Arik- I love the value with Payne at No. 22. Memphis can use a rotation player with this pick and I think Payne can contribute at a high level right away. He has a rare skillset for a player his size with the ability to shoot the three and bang inside. He'll need to put on some muscle but he's one of the most NBA ready players in the draft.
23.) Utah Jazz- Cleanthony Early
Zach- Cleanthony is a versatile forward who can be a real nice player off the bench. With Burks, other Burks, Hayward, Favors, and Kantor, the Jazz have really solid young players at every position. If the Jazz evolve into a contented, I could see Cleanthony providing a Boris Diaw like spark off the bench.
24.) Charlotte Hornets- Jarnell Stokes
Mikey- I'm sorry, but I gotta reach once again. Stokes is going to be double-double guy right off the bat if he's given the minutes and he's just 20 years old. I could see Stokes playing alongside Al Jefferson in a more offensive-minded frontcourt (albeit one that struggles defensively).  Stokes reminds me of a poor man's Demarcus Cousins. The Hornets need a youth infusion, so adding Gary Harris and Stokes couldn't hurt.
25.) Houston Rockets- Kyle Anderson
Arik- Kyle Anderson is a point forward that will be a tough fit for any NBA team, but I think the Rockets could work. Houston doesn't have a true point guard or any player on the roster right now with the court vision of Anderson. Anderson can play point in a pinch and log minutes in their front court as well. He's young so he doesn't need minutes right away.
26.) Miami Heat- Mitch McGary
Zach- The Heat need a guy down low to do the dirty work. If he hadn't of failed the drug test, McGary would have been in line to be a lottery pick in next years draft. He has a ton of talent and despite failing the drug test, he has solid character (he ain't no Michael Beasley). McGary is a good fit and a good value for the Heat at 26.
27.) Phoenix Suns- P.J. Hairston
Mikey- Hairston would be a steal for the Suns at No. 27. Phoenix has come away with T.J. Warren, Tyler Ennis, and now Hairston in this draft. Hairston thrived in the D-League this season and was a knockdown shooter during his time at UNC. His character has some question marks, but his upside is unquestionable. I'd pay to see Hairston get a chance to play in the Suns 3-point heavy system.
28.) Los Angeles Clippers- Bogdan Bogdanovic
Arik- Can you tell I like international players? This is the third European player I've drafted, but this draft is stock full of them. Bogdanovic won the Rising Star Award in the Euroleague last season and he can light it up. I think he's the best player available here and the Clips can afford to wait a few years for him to come overseas.
29.) Oklahoma City Thunder- C.J. Wilcox
Zach- I had been considering Hairston and Bogdanovic for the Thunder with this pick. They have depth at every position besides shooting guard, and while Jeremy Lamb has tons of potential, they could use another. Wilcox is a stud and deadly from long range. He has solid size for at SG at 6-5 and is one of the best shooters in the draft. Lamb is the SG of the future, but a 1-2 punch of Reggie Jackson and CJ Wilcox off the bench could do some serious damage
30.) San Antonio Spurs- Rodney Hood
Mikey- Zach, how could you take Wilcox over Hood? I'd rather take the player with more potential and athleticism. Why do the Spurs always get the steal of the draft? If Hood fell here on draft night, San Antonio would pounce with no hesitation. Hood is an athletic lefty shooter who thrived alongside Jabari Parker during his only year at Duke. He can't do much else but score, but luckily that's all he'd need to do if he joined the Spurs. Hood has the upside of Gerald Green, who should've won Most Improved Player this year.
For More Great Chicago Sports Content
Follow us on Twitter at @chicitysports23 for more great content. We appreciate you taking time to read our articles. To interact more with our community and keep up to date on the latest in Chicago sports news, JOIN OUR FREE FACEBOOK GROUP by CLICKING HERE