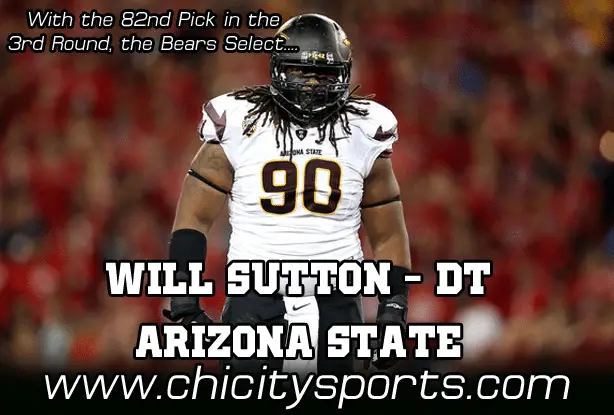 The Bears have drafted DT Will Sutton to Arizona State with the 82nd Pick in 3rd Round of NFL Draft.
Highlights
Bio
ASU: Talented, athletic defensive lineman who made a huge impact in his freshman season…could be a major contributor at both defensive tackle spots… was the 2009 opening day starter at defensive tackle Sept. 5 against Idaho State.
 2012:Is making a claim as one of top interior linemen in the country and became ASU's 18th Consensus All-American…Was named the Pac-12 Pat Tillman Defensive Player of the Year, an award named for the former Arizona State great…. Sutton posted 23.5 tackles for loss on the season (led team and fourth-most in ASU history), 13.0 sacks (led team and fourth in ASU history) and 63 total tackles (seventh on team)…Sutton finished the season ranked second in the nation at 1.92 TFL per game and third in the nation with 1.08 sacks per game and also led the Pac-12 in both… His 102 yards lost on sacks this year, including 23 in the Kraft Fight Hunger Bowl, place him fourth on the school's single season yards on sacks list…Had five passes defensed this season, which was among the top marks in the nation among defensive linemen…His 3.5 tackles for loss and 2.0 sacks earned him Kraft Fight Hunger Bowl Defensive MVP honors…Had a sack and two tackles for loss against USC (11/10)… Posted sack No. 9.5 against Oregon State (11/3)…Had one tackle for loss and forced fumble against Oregon (10/18) on the second play from scrimmage before leaving the game with a leg injury…Added two sacks against Colorado (10/11) and had 3.0 tackles for loss in the tilt…had eight in games against Cal (9/29), Mizzou (9/15) and Illinois (9/8)… Against Cal, Sutton posted four tackles for loss and three sacks with six solo tackles in the process… Was named Pac-12 Defensive Player of the Week and MAACO Bowl Las Vegas Pac-12 Player of the Week for the performance…Has made 113 career tackles, including 32 for loss (164 yards)…has 16.5 career sacks…has seen action in 37 games, with 27 starts, including 12 in 2011 and 12 in 2012, only missing one start to injury…
2011:Played in 13 games with 12 starts at defensive tackle … tallied 33 tackles, five and a half tackles for loss, two and a half sacks, one pass breakup for the season … tallied four tackles, one tackle for loss, one pass breakup and one QB sack against Illinois … carded three tackles while helping the defense hold USC to 22 points in win… registered four solo tackles, one sack and one TFL for a loss of 12 yards in win against Oregon State following week … had five tackles, one and a half tackles for loss at Utah … posted two tackles and one tackle for loss at Oregon … notched three tackles (one solo) in homecoming win vs Colorado … made one solo tackle at UCLA … tallied four tackles, one tackle for loss, against Washington State…finished with two tackles against both Arizona and Cal.
2010: Sat out season…earned Hard Hat player recognition for his work in ASU's offseason strength and conditioning program.
2009: Started two games, including the first game of the season Sept. 5 vs. Idaho State, and appeared in all 12…finished the season with 17 tackles (six solo), three tackles for loss, one sack and a forced fumble…collected at least one tackle in 10 of 12 games, including a stretch of nine straight games…made four tackles (one solo) and a two-yard tackle for loss in the first game of his career Sept. 5…recorded two solo tackles, two tackles for loss, including a four-yard sack, and a forced fumble against Washington State Oct. 10… also started Oct. 31 vs. Cal.
HIGH SCHOOL: A 2009 graduate of Centennial High School in Corona, Calif…one of the premier defensive linemen in the state of California…played for one of the nation's elite prep programs…an active, athletic and powerful lineman…will be one of five Sun Devils to have played at Centennial High, the most teammates outside the state of Arizona to be on a Sun Devil roster in school history…ranked as the No. 33 defensive tackle in the country by Scout.com…regarded as the top defensive tackle in the state of California by ESPN Scouts, Inc….listed as the No. 42 defensive tackle in the nation by Rivals.com…also labeled by Rivals.com as the No. 2 defensive tackle in the state of California and the state's No. 40 overall recruit…played in the 2009 Offense-Defense All-American Bowl in Myrtle Beach, S.C., along with fellow Sun Devil Jamal Miles…totaled 101 tackles (23 solo) as a senior in 2008…led the Huskies with 11.5 quarterback sacks…blocked four punts and recovered one fumble…totaled six or more tackles in 11 games on the year…registered a season-high 11 tackles (three solo) against Norco on Nov. 14, 2008…tallied a season-high four quarterback sacks and seven total tackles against Chaparral on Dec. 12, 2008…totaled nine tackles on two occasions and collected 1.5 quarterback sacks four times on the year…registered 48 tackles as a junior in 2007…added 2.5 quarterback sacks and one fumble recovery…posted five or more tackles on six occasions and tallied a season-high six total stops three times…totaled 11 tackles as a sophomore in 2006…posted a season-high six total tackles against Chaparral on Nov. 24, 2006…chose ASU over Arizona, Boise State, Fresno State, Nebraska, UNLV and Washington, among others…verbally committed to ASU on Dec. 14, 2008…coached by Matt Logan at Centennial High School.
PERSONAL: A Communication and Sociology major. Father Mickey played defensive back and punt returner for the Los Angeles Rams (1986-1988), the Green Bay Packers (1989), the Buffalo Bills (1989) and the Rams (1990)
Source: Arizona State's Website
For More Great Chicago Sports Content
Follow us on Twitter at @chicitysports23 for more great content. We appreciate you taking time to read our articles. To interact more with our community and keep up to date on the latest in Chicago sports news, JOIN OUR FREE FACEBOOK GROUP by CLICKING HERE