Probably the best bear hunter I've seen in my lifetime is Aaron Rodgers. His friend, former Chicago Bears quarterback Jay Cutler, recently caught some game that will look familiar to fans in Illinois.
Cutler is known for posting his exploits in hunting on his Instagram account. Cutler was something of a sharpshooter as a quarterback, and it shouldn't be surprising he can use his eye-hand coordination to take down living creatures from a distance.
Former Chicago Bears QB Jay Cutler hunts and kills a bear
According to a post on Cutler's Instagram recently, he went on a bear hunt in Montana. He posted a picture of him next to a potential meme for the Bears in December or January. The diabetic hunter released the photo with a caption that reads:
"MT bear hunt in the books. @outsiderig Heading home to get some summer ale @gratisbeer"
The photo must have been in poor taste to some followers. His next Instagram photo shows Cutler holding a mug of what I assume to be beer in the middle of a faint double rainbow with a caption that reads:
"If you didn't like the bear post, here is a rainbow to calm you down. You're welcome. Go drink @gratisbeer, that will help also."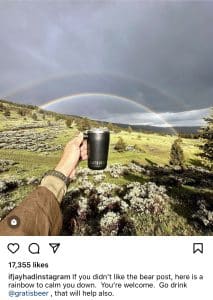 Lucky Cutler that is one helluva view.
For More Chicago Sports:
Follow me on Twitter at @JordanSig, and follow us @ChiCitySports23. You can also reach out to Jordan Sigler via email at jordanmsigler@gmail.com. To read more of our articles and keep up to date on the latest in ALL of Chicago sports, click here! Chicago Bears, Chicago Bulls, Chicago Cubs, Chicago White Sox, Chicago Blackhawks.
For More Great Chicago Sports Content
Follow us on Twitter at @chicitysports23 for more great content. We appreciate you taking time to read our articles. To interact more with our community and keep up to date on the latest in Chicago sports news, JOIN OUR FREE FACEBOOK GROUP by CLICKING HERE