Well there hasn't been any progress in the negotiations for a new labor agreement between the NFL and it's players so it looks like free agency isn't going to have any kind of impact on what the Bears or any other team decide to do in the 2011 NFL Draft.  With that it's up to the Bears to fill a majority of their needs through the draft because they don't know exactly what is going to happen with the free agent market.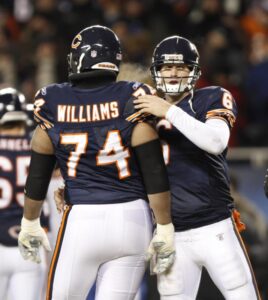 The Bears have been visiting the workouts of several players that could help their team and are showing interest in some of the bigger names in the draft including Florida's Mike Pouncey and Illinois' Corey Liuget.
For the second time this season, we will take a look at the some of the possibilities for the Bears in the 2011 NFL Draft as we take do another mock draft of the Bears six picks in the draft this month.
Round 1, Pick 29: Gabe Carimi-OT-Wisconsin-The Bears need help on the offensive line and would be crazy not to get some help there in the first round.  Trying to figure out who might be there when they make their pick is the hard part but if Carimi is around when Chicago makes their first round selection than they should seriously consider taking him.
He could help provide their offensive line with a big boost with the ability to step in and start right away which is key.  The question is, where would he play?  He appears to be much better suited for the right tackle position but the Bears could use much more help at the left tackle position.  They may try to get him working at the left tackle position or they could replace J'Marcus Webb at the right tackle position but with Webb not playing that poorly towards the end season it's likely the Bears would stick Carimi at the left tackle position.
Round 2, Pick 30 (62nd Overall)-Drake Nevis-DT-LSU-The Bears are going to want to draft a defensive lineman in this draft and should try to go for one in the second round (if things shape up like they will in this mock draft).  Nevis could end up being a nice pick because he has the size that the Bears like in their defensive tackles and he is a hard working and competitive player at the position.
Round 3, Pick 29 (93rd Overall): Curtis Brown-CB-Texas-The Bears could try to go for a wide receiver here but with the depth at the cornerback position right around this point in the draft they would be remiss if they didn't go for a cornerback here.  Brown has steadily been moving up draft boards across the NFL and would be a nice option for Chicago in case of an injury.
Round 4, Pick 30 (126th Overall)-John Moffitt-C/G-Wisconsin-The Badgers have a habit of producing some good offensive lineman and they will put another one into the draft in Moffitt.  Moffitt can play both the center and the guard position which could be an advantage to the Bears in the long run.  Deciding what they want to do with Moffitt could be somewhat of a challenge but he would be a nice pick up at this point in the draft.
Round 5, Pick 29-(157th Overall) Dough Hogue-LB-Syracuse-Chicago has shown a deep interest in Houge and it's likely that they could draft him in the upcoming draft.  They need the help at the outside linebacker position especially with not having both Nick Roach and Pisa Tinoisamoa not signed to contracts as of yet.  They need some depth as it is anyway and could develop a linebacker into a future starter (with someone drafted in this year's draft).
Round 6, Pick 30 (190th Overall)-Niles Paul-WR-Paul is going to be a real find for whichever team drafts him in the 2011 NFL Draft and the Bears might have some interest in a guy like him.  He has some development that needs to take place but he could turn into a nice third or fourth option.  Granted the Bears need a number one wide receiver but perhaps they could find one in free agency (if there is free agency this offseason) or through a trade.
For More Great Chicago Sports Content
Follow us on Twitter at @chicitysports23 for more great content. We appreciate you taking time to read our articles. To interact more with our community and keep up to date on the latest in Chicago sports news, JOIN OUR FREE FACEBOOK GROUP by CLICKING HERE