Coming off of a disastrous 3-14 season, the Chicago Bears needed to find a new philosophy because an overreliance on the H.I.T.S. turned out to be a farce in head coach Matt Eberflus' first year with the team. General manager Ryan Poles recently said he and Eberflus are adding a new philosophy to the way they handle their business this season.
Ryan Poles tore down, now he's building up
Poles spent much of last season tearing down the main foundation of the preceding regime by either trading veterans or not re-signing players that made impacts on former general manager Ryan Pace's system.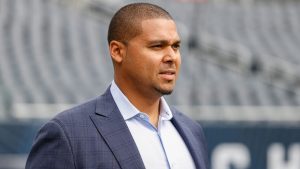 Poles then used free agency to bring in cheap labor on one or two-year deals for a transitional season. This offseason feels much different. While Poles hasn't signed an impact star like a Khalil Mack yet, he has signed several free agents who should be in Chicago for the next few seasons.
The Chicago Bears are making new investments
Now that the Bears have invested in their core financially, Poles and Eberflus want to make more of an effort to unify their team. In an interview with Jim Trotter of The Athletic, Poles said this season the Bears were prioritizing a commitment to reaching the "mind, body, and spirit," of each player. Players in different position groups will mix this offseason in order to get to know each other and their backgrounds so the whole team has comradery.
The Bears are taking special steps to take care of their player's minds and bodies. Per the report, the Bears team clinician will help players with off-the-field needs:
"The process is layered and involves people from every part of the organization. There is a meeting with the team clinician, who highlights the importance of mental health. There are discussions about sleep, nutrition and dealing with distractions off the field. They go over ways to communicate properly. Last week, there was even a session on breathing techniques during moments of anxiousness in games or in life.

 

"One of the core beliefs that Flus and I have is, by investing in people, in our staff's development — the mind, body and spirit — you have a better chance of the whole building pulling in the same direction," Poles says. "The players feel whole. They feel like they're the best version of themselves in a holistic view, rather than just, "Hey, come play football for us."
Hopefully, that investment will pay off on the football field this fall. It'll be interesting to see if the mixing of positional groups pays dividends when adversity hits. I can't tell you the number of times I've heard athletes on a defensive or offensive unit complain on the sideline about the other side of the ball not doing their job when a game is going poorly.
Comradery can help the Bears
At higher levels of football in college and in the NFL, there's typically an us vs them mentality when it comes to offense and defense. (It makes some sense, given how training camp is set up; the other side of the ball is your opponent for half of the year and in some practices.) Those petty fights between teammates can bring down the morale of a locker room. There are sometimes even smaller squabbles between various positional groups on a defensive or offensive unit.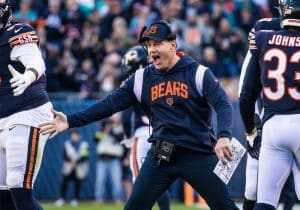 With a Bears team that needs any advantage it can get this season, this could be a small difference-maker. But I'd still feel more comfortable with a game-changing pass rusher, even if they came at the end of training camp after missing out on several of these mind, body, and spirit meetings.
For More Chicago Sports:
Follow me on Twitter at @JordanSig, and follow us @ChiCitySports23. You can also reach out to Jordan Sigler via email at [email protected]. To read more of our articles and keep up to date on the latest in ALL of Chicago sports, click here! Chicago Bears, Chicago Bulls, Chicago Cubs, Chicago White Sox, Chicago Blackhawks.
For More Great Chicago Sports Content
Follow us on Twitter at @chicitysports23 for more great content. We appreciate you taking time to read our articles. To interact more with our community and keep up to date on the latest in Chicago sports news, JOIN OUR FREE FACEBOOK GROUP by CLICKING HERE