The Chicago Blackhawks' 2-1 loss to the Anaheim Ducks was a tough loss for fans to swallow for many reasons. The 'Hawks fell to eight place in the Western Conference behind Anaheim and one point in front of Calgary.
Just like after the loss to Dallas back on March 17th, Anaheim now has the tie-breaker over the 'Hawks, taking the season series after Saturday night's win.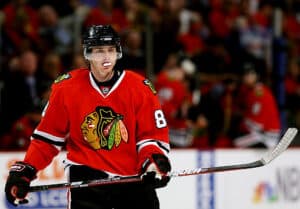 Anaheim is a much tougher team than the 'Hawks and it showed Saturday. They beat the 'Hawks by limiting the first line's productivity. Patrick Kane is an easy target on the first line. Anaheim kept putting the body on him, disrupting the timing of the first line while limiting its productivity.
Teams are finding out that if you stop the first line you can stop the offense altogether.
For Blackhawk fans, it's a scary truth. The lack of depth might ultimately doom any playoff chance or run. Having a banged up first line(Patrick Sharp is out indefinitely) doesn't help. Even though Sharp hopes to return before the end of the season, the 'Hawks need to find some help and productivity from the bottom lines.
The lack of depth is something that has haunted the 'Hawks all season long, and it doesn't seem to have fixed itself at all this year.
As for the future, the 'Hawks have a very tough, two game schedule next week. Monday, they play Detroit, and Tuesday, they play Boston. These two games could easily mean three straight losses, something that needs to be avoided at all costs for a team that is borderlining participating in the playoffs or watching the playoffs at home.
On a more positive note, Corey Crawford continues to play extremely well in net, and Chris Campoli looks like a great fit even though he isn't the powerplay killing defenseman we hoped the 'Hawks would get at the trade deadline, but I still like the guy and I hope he remains with the 'Hawks after this year.
The season is winding down, and 74 game into it, a playoff spot still remains in question as well as much of the questions fans had at the beginning of the season. It definitely hasn't been a season of answers.
It's going to be a crazy two weeks.
For More Great Chicago Sports Content
Follow us on Twitter at @chicitysports23 for more great content. We appreciate you taking time to read our articles. To interact more with our community and keep up to date on the latest in Chicago sports news, JOIN OUR FREE FACEBOOK GROUP by CLICKING HERE