The Chicago Blackhawk news sphere went crazy not just because the Blackhawks drafted forward Phillip Danault and forward Mark McNeil, but because the organization has parted ways with forward, Troy Brouwer, and defenseman, Brian Campbell.
News of the Brouwer trade to the Washington Capitals came before the Campbell trade that brought winger Rostislav Olesz to the 'Hawks and allowed the 'Hawks to have two first round draft choices, in which they nabbed Danault at the 26th pick.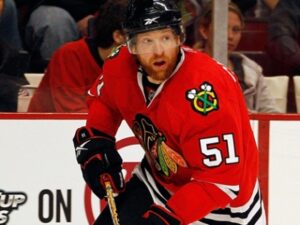 The trades come at some surprise to many since Brouwer was thought to be one of the players staying. His physical style of play was an attribute that the team needed since there really isn't a big physical player on the team that gets more than 10 minutes of ice time.
Campbell's  7 million dollar contract was always the elephant in the room when it came to talking about possibly trading him, but Florida Panthers GM(and former Blackhawks GM) Dale Tallon must have felt comfortable since he is the guy who brought him into the 'Hawks organization in the first place.
But after the initial shock wears off, the trades seem almost like a no brainer. The trades not only give the 'Hawks more salary cap to work with, total of about $14.5 million, but it also helps the 'Hawks in the long-run, giving them more money to work with younger and growing talent.
Most importantly, it gives more room to re-sign forward, Patrick Sharp.
The rest of the money will go to building up a fourth line that will hopefully be edgier and more effective than the one they had last season.
If anything, these trades show fans that the organization is serious about developing young talent to fill in the holes that were made because of the salary cap issue last off-season. But what they don't answer is what will happen now that there is a gaping hole in the defensive lineup that needs to be filled.
I wouldn't be surprised if John Scott gets the first crack at the open space, but I think many fans would like to avoid that possibility.
All in all, the Blackhawks aren't ready just yet for a Stanley Cup run, but their future is more optimistic than it was about a year ago, and for fans, that means a whole hell of a lot.
For More Great Chicago Sports Content
Follow us on Twitter at @chicitysports23 for more great content. We appreciate you taking time to read our articles. To interact more with our community and keep up to date on the latest in Chicago sports news, JOIN OUR FREE FACEBOOK GROUP by CLICKING HERE