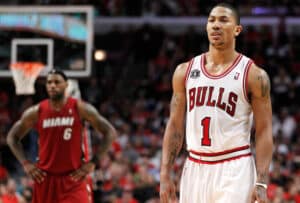 As we approach Friday's preseason opener versus the Indiana Pacers and draw closer to the opening of the Chicago Bulls' season, it is worth looking at the road ahead for the Bulls.
This is a pivotal year for the Chicago Bulls, as they finished with the NBA's best record last season and are looking to build off that momentum and work their way closer to an NBA championship.
As a result of the lockout, the NBA was forced to shorten 2011-12 schedules to a mere 66 games. The Bulls have one of the quirkiest schedules in the NBA, due in large part to an increased number of nationally-televised games.
The removal of 16 games seems small in context, but it causes a lot of randomness not only in results, but also in game scheduling. Each NBA team is going through a hellacious four-month schedule that is bound to test their endurance and wherewithal.
The Chicago Bulls have an interesting schedule breakdown, including:
15 back-to-back games
One back-to-back-to-back
Four weeks with five games
Three weeks with four games
It remains to be seen how the Chicago Bulls will be directly affected, as they are one of the NBA's deepest teams with above-average rotational players almost two-deep per position.
The factor that may play largest is head coach Tom Thibodeau's practice schedule, which is noted as one of the most hardcore of any of the 30 NBA teams.
The following are the roughest of these stretches in the Bulls' upcoming season. This includes a number of factors such as tough matchups in short time, numerous games in a row and travel nightmares.
7. Dec. 25-30
Sunday, Dec. 25 at Los Angeles Lakers, 4:00 ABC – Regular Season Opener
Monday, Dec. 26 at Golden State Warriors, 9:30
Thursday, Dec. 29 at Sacramento Kings, 9:00
Friday, Dec. 30 at Los Angeles Clippers, 9:30
The opening stretch of the season is not quite the prototypical "circus trip" Bulls fans are used to, but this West-Coast excursion is still a grueling kickoff to the season.
The Bulls do get a slight break in between the Warriors and Kings game, but it is still a stretch of above-average-to-great teams. Golden State will look to improve under new head coach Mark Jackson, and Sacramento has built some momentum with a number of talented players.
The Lakers are understood, as Kobe and the crew will look to get back to the top of the NBA without Lamar Odom.
Lastly, the Clippers have reworked their entire team with the acquisition of superstar Chris Paul. Along with Blake Griffin, they should form the most dynamic duo in the NBA.
Prediction: 3-1
6. Jan. 1-3
Sunday, Jan. 1 vs. Memphis Grizzles, 7:00 – Home Opener
Tuesday, Jan. 3 vs. Atlanta Hawks, 7:00
Wednesday, Jan. 4 at Detroit Pistons, 6:30
This stretch is not only one of their roughest, but it is one of their first. The Chicago Bulls kick off the regular season Christmas Day against the Lakers and go through their initial West-Coast swing. However, they do not get much of a break as they prepare for their home opener on New Year's Day against the up-and-coming Memphis Grizzlies.
The Grizzles shocked the NBA world last year, emerging as a force in the playoffs, and they are built for a great season in 2011-12.
Between Zach Randolph, Marc Gasol and Rudy Gay, the Grizzles are arguably one of the deepest and most talented teams in the NBA.
Likewise, Atlanta, one of the most athletic NBA teams in the league, comes to Chicago fresh off yet another playoff appearance.
Chicago made quick work of the Hawks in the playoffs last season, but Jeff Teague emerged as a potential breakout player this season. The combination of Joe Johnson and a slimmed-down Josh Smith still makes this Atlanta team very dangerous as well.
The Pistons are nothing to be too concerned with, but I worry about fatigue after playing six games in the previous 10 days. Detroit, as a team, is still a long way from being a threat, but this could be a potential trap game.
Prediction: 3-0
5. March 7-9
Wednesday, March 7 at Milwaukee Bucks, 7:00
Thursday, March 8 vs. Orlando Magic, 7:00 TNT
Saturday, March 10 vs. Utah Jazz, 7:00
The lucky part of this stretch is the Bulls will play Thursday and Saturday at home in the confines of the United Center. However, this is a tough stretch of games, as all three teams look to be above average.
Milwaukee appears poised for a bounce-back year with newly-acquired Stephen Jackson joining Brandon Jennings and Andrew Bogut under former Chicago Bulls head coach Scott Skiles.
Milwaukee was a huge disappointment last year and—barring another regression from Jennings—should be back in the Eastern Conference playoff race.
At the time of this writing, Dwight Howard is still in Orlando, and that will be the key to their continued success.
The Magic feature a revamped roster, in comparison to the one that reached the NBA Finals just three years ago, and will still be one of the top teams in the East.
Utah has made a number of shrewd moves over the past two years and—depending on the health of Andrei Kirilenko—could find themselves among the Top 5 teams in the Western Conference.
Provided Paul Millsap and Al Jefferson can continue to work well together, Utah poses constant matchup problems for opponents.
It remains to be seen how rookie Enes Kanter will work into the rotation, but he can prove to be a sleeper pick from this year's NBA draft.
Prediction: 2-1 
4. Jan. 9-11
Monday, Jan. 9 vs. Detroit Pistons, 7:00
Tuesday, Jan. 10 at Minnesota Timberwolves, 7:00
Wednesday, Jan. 11 vs.Washington Wizards, 7:00
None of these teams are particularly good, but back-to-back-to-back games are always going to be tough.
Travel-wise, this particular stretch is also rough. The Bulls will go from Atlanta (Saturday, Jan. 7) to Detroit, fly to Minnesota for a game and, finally, find their way back to the United Center for a matchup with Washington.
Detroit, as mentioned before, is a very poor team currently with no clear-cut organizational direction.
Minnesota may be the poster child for confusing organizational direction, but the Timberwolves do have a lot of talent.
Kevin Love is a double-double machine and one of the NBA's most intriguing talents, while Michael Beasley is finally showing the talent that made him the second-overall pick in the 2009 NBA Draft.
Most intriguing is going to be Ricky Rubio, who finally arrives stateside to a lot of hype.
Washington, of course, features last year's No. 1-overall pick, John Wall, who had a good rookie season, but will still look to take his game to the next level in 2011-12.
Prediction: 3-0
3. March 12-17
Monday, March 12 vs. New York Knicks, 7:00
Wednesday, March 14 vs.Miami Heat, 7:00
Friday, March 16 vs. Portland Trailblazers, 7:00
Saturday, March 17 vs. Philadelphia 76ers, 7:00
Any time you have to faceCarmelo Anthony and LeBron James on back-to-back nights, it's going to grueling, but this particular stretch will test the Chicago Bulls.
Kicking off the week against Anthony, Amar'e Stoudemire, Tyson Chandler and the New York Knicks is never a pleasant way to start. While the team still lacks depth, the addition of Chandler gives them a low-post presence they sorely lacked in previous seasons.
Just two nights later, the Bulls match up with James, Dwyane Wade, Chris Bosh and the Miami Heat. While the Bulls handled the Heat well in last year's regular season, their collapse against Miami in the 2011 playoffs will still be fresh in their minds.
Like New York, Miami lacks depth, but boasts arguably three of the Top 25 players in the NBA and is one of the NBA's most feared teams.
Despite the loss of Brandon Roy, Portland is still poised for a good year under the leadership of Gerald Wallace and LaMarcus Aldridge.
Lastly, while they look to be out of the playoff picture, Philadelphia and Chicago native Evan Turner will get the benefit of the Bulls playing eight games over the previous 12 days.
Prediction: 3-1
2. April 19-21
Thursday, April 19 at Miami Heat, 7:00 TNT
Saturday, April 21 vs. Dallas Mavericks, 7:00
Facing both last year's NBA champion and the runner-up in a span three days? Simple enough, right?
The retooled and refocused Dallas Mavericks team looks to be just as dangerous as last year with the additions of Lamar Odom and Vince Carter.
Despite losing Tyson Chandler, the Mavericks window is still wide open, and Dirk Nowitzki will also pose matchup problems for opposing teams.
Jason Kidd is still one of the best point guards in the league, and his newly discovered three-point shot really opens up the Mavericks' attack.
Miami has simply two of the Top 10 players in the NBA in Dwyane Wade and LeBron James. The Bulls played quite well against Miami during the regular season last year, but cannot take the Heat lightly.
James dominated the Bulls in last year's postseason en route to Miami's NBA Finals berth.
Prediction: 1-1
1. April 8-12
Saturday, April 8 at New York Knicks, 12:00 ABC
Tuesday, April 10 vs. New York Knicks, 8:30
Thursday, April 12 vs. Miami Heat, 7:00 TNT
Wow. That is all I can say about what I believe is the worst stretch of the Chicago Bulls' 2011-12 season.
Two games in three days versus an improved New York Knicks team that already boasts a superstar lineup, including Carmelo Anthony and Amar'e Stoudemire.
Compound that with an invasion by Miami's "Big Three" on Thursday, and you have the makings of one hellacious stretch of games for the Chicago Bulls.
The good news? Two of the games are in Chicago, and the Bulls will have two days off before this stretch of games.
The bad news? New York and Miami are really good teams.
Anthony and Stoudemire lead the charge as head coach Mike D'Antoni looks to find the same success he found in Phoenix with the iconic Knicks franchise.
Miami, as noted before, is one of the league's best teams with, arguably, the league's best player in LeBron James.
This stretch will test the Bulls' patience like none other this season.
Prediction: 1-2

For More Great Chicago Sports Content
Follow us on Twitter at @chicitysports23 for more great content. We appreciate you taking time to read our articles. To interact more with our community and keep up to date on the latest in Chicago sports news, JOIN OUR FREE FACEBOOK GROUP by CLICKING HERE