A new report about the Chicago Bulls from Shams Charania of The Athletic went viral on social media Tuesday. Charania said the Bulls are in talks to extend center Nikola Vucevic's contract to keep him with the team long-term.
THIS JUST IN:

The Chicago Bulls have started contract extension talks with Nikola Vucevic, per @ShamsCharania.

— Daniel Greenberg (@ChiSportUpdates) May 30, 2023
Vucevic was traded to the Bulls in March 2021. He was in the middle of a four-year $100 million contract he signed with the Orlando Magic ahead of the 2019-20 season. Vucevic is set to become a free agent this offseason.
Chicago Bulls fans react to Nikola Vucevic's contract extension talks
Many Bulls fans have mixed thoughts on keeping Vucevic. He's going to turn 33 years old next season. He has been a good player for Chicago but has failed to be the All-Star center they traded Wendell Carter Jr., Otto Porter, and two first-round picks for. With Lonzo Ball's career in the NBA possibly over and the Bulls playing mediocre without him, it might be best to blow the team up and tank.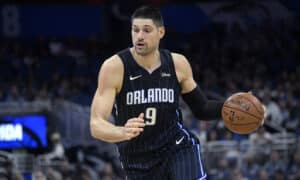 It's hard to watch this Bulls team fail to make the playoffs and then turn on the NBA finals and watch another center with the first name Nikola lead his team to a Western Conference championship.
Here are the best takes on Bulls fans reacting to the extension talks.
This team will be the death of me https://t.co/kRLlzSrpxV pic.twitter.com/CX88NmIfnf

— Rusty Buckets (@RustyBUCKETS321) May 30, 2023
Can't wait for 2024 #WhiteSox to run it back!!! https://t.co/9NC1awMqM0

— Husky Bardo (@HLombardo22) May 30, 2023
Omg we are about to run it back the only year we have our pick without protections after missing the playoffs https://t.co/RXjh4BpejL pic.twitter.com/7W6hZ4r1dq

— . (@mooh3e) May 30, 2023
Can't let an asset like that walk for nothing https://t.co/hwVjJkicl3 pic.twitter.com/uvQlZHsm5y

— Alonzo (@a10nzo_a) May 30, 2023
It's all I can do. https://t.co/k6V0f9Lgp6 pic.twitter.com/1LTDvVMZX0

— AshTM (@ash4nd1021) May 30, 2023
Man save my boy Zach from this hellhole franchise @MiamiHEAT https://t.co/BHedFQL0gB pic.twitter.com/PfWdmO8dQr

— Mal 🏆🎯 (@MalCapone11) May 30, 2023
I have a better idea https://t.co/fC6kSxUQu3 pic.twitter.com/1yZJWkPTnC

— JTobe… (@joethetobes) May 30, 2023
7 seed in the East is a WRAP. https://t.co/7KzOJv3Bv6 pic.twitter.com/jvgFBmXtmw

— Mark Strotman (@markstrot) May 30, 2023
I'm ok with it… but I'm not excited about it at all. Continuity…. yay. #BullsNation https://t.co/fbGEJMRoT2 pic.twitter.com/19I7BUPPeO

— 𝚃𝙷𝙴 𝙲𝚃𝙹 𝚁𝙴𝙿𝙾𝚁𝚃 𝙸𝚅.𝚅𝙸𝙸𝙸 (@ctjay14) May 30, 2023
they saw how close they were to beating Miami and said lets run it back https://t.co/yQzKdppwmV

— Bobby (@BobbyMlRE) May 30, 2023
For More Chicago Sports:
Follow me on Twitter at @JordanSig, and follow us @ChiCitySports23. You can also reach out to Jordan Sigler via email at jordanmsigler@gmail.com. To read more of our articles and keep up to date on the latest in ALL of Chicago sports, click here! Chicago Bears, Chicago Bulls, Chicago Cubs, Chicago White Sox, Chicago Blackhawks.
For More Great Chicago Sports Content
Follow us on Twitter at @chicitysports23 for more great content. We appreciate you taking time to read our articles. To interact more with our community and keep up to date on the latest in Chicago sports news, JOIN OUR FREE FACEBOOK GROUP by CLICKING HERE