A new report gives a major detail in the contract negations between the Chicago Bulls and their All-Star center, who is rapidly heading for free agency. The Bulls have a couple of contracts to decide on for upcoming free agents.
Point guard will have some severe stakes this offseason, with Coby White becoming a restricted free agent this year. Patrick Beverley, who signed with the Bulls in February, will be a free agent as well. The Bulls need depth and help at that position with Lonzo Ball's career in jeopardy. But the biggest contract the Bulls need to decide on is for their center, Nikola Vucevic.
Nikola Vucevic's contract negotiation details with the Chicago Bulls
A report came out this the Bulls are in talks to re-sign Vucevic. A new report published Saturday by Jae Cowley with the Chicago Sun-Times gave insight into where the contracts are currently. According to Cowley, the Bulls want to keep their core intact for at least the next few seasons. The contract extension for Vucevic would be for three years:
"Project "Blow Up'' is not an option, according to Karnisovas, who seems fine with staying on the path of continuity. The organization is content to hold out hope for a miraculous Lonzo Ball recovery from three surgeries on his left knee, while beginning negotiations on Nikola Vucevic's contract extension over the last week. The Bulls are looking to lock up the big man for the next three years.

Big swings aren't in the summer forecast."
The Bulls need to think about the future as well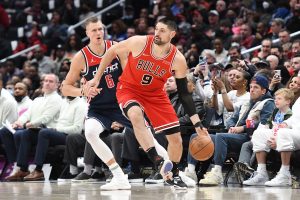 Three years to keep Vucevic is a big gamble for the underachieving Bulls. Vucevic hasn't played to his All-Star ceiling since he was traded to Chicago. He's the best center option if the Bulls want to band-aid this offseason and hope having Beverley for an entire season might net them a few more wins in the regular season next year. Not signing Vucevic would be in the Bulls' best interests for the long term, as the team would have to blow up their roster that's a legitimate star away from competing for a championship.
For More Chicago Sports:
Follow me on Twitter at @JordanSig, and follow us @ChiCitySports23. You can also reach out to Jordan Sigler via email at jordanmsigler@gmail.com. To read more of our articles and keep up to date on the latest in ALL of Chicago sports, click here! Chicago Bears, Chicago Bulls, Chicago Cubs, Chicago White Sox, Chicago Blackhawks.
For More Great Chicago Sports Content
Follow us on Twitter at @chicitysports23 for more great content. We appreciate you taking time to read our articles. To interact more with our community and keep up to date on the latest in Chicago sports news, JOIN OUR FREE FACEBOOK GROUP by CLICKING HERE