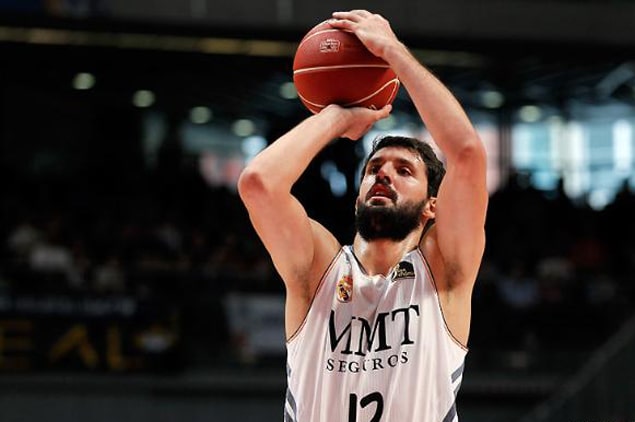 This is Part 2 of a three-part series outlining potential targets for the Chicago Bulls this off-season
Part 1: Carmelo Anthony and Kevin Love
In Part 1, I gave a stern warning. Even though the Chicago Bulls have a legitimate shot at Carmelo Anthony and Kevin Love, it's always smart to have a backup plan. In 2010, the Bulls missed out on the likes of LeBron James, Dwyane Wade, Chris Bosh, and Joe Johnson (thank god), settling for Carlos Boozer as a centerpiece of their offseason. Role players C.J. Watson, Kyle Korver, and Ronnie Brewer were added to give the Bulls depth and flexibility that very few teams had. Missing out on the summer's top players isn't the death penalty by any means. After failing to corral a second fiddle to Derrick Rose, Chicago still had the best regular season record for two straight seasons and even reached the Eastern Conference Finals.
Chicago has only six players currently on the roster with guaranteed contracts for next season: Derrick Rose, Joakim Noah, Taj Gibson, Mike Dunleavy, Tony Snell and Jimmy Butler, for a total of approximately $46 million. The salary cap is projected to be about $63 million for next season. When you account for the three draft picks (which the Bulls should shed at least one) and assume Boozer will either be traded or amnestied, the Bulls will have about $10 million in cap room this summer.
This offseason—much like the draft—the free agent class is deep. There is a fairly steep drop off after the obvious superstar players and a few top tier restricted free agents to deal with, but there are plenty of solid rotation players available. If you want a complete list, click right here. I'm going to list several players the Bulls will likely target and give a brief explanation for some of the more prominent players.
Nikola Mirotic, SF/PF
Putting Nikola Mirotic on this list is a fairly obvious choice, but getting the Serbian sensation onto the team might not be as simple as it previously seemed. Mirotic is going to cost more money since he will no longer be restricted to the rookie scale and the Bulls can only pay $600,000 towards his $3.4 million buyout with Real Madrid. Mirotic will cost near the mid-level exception which will be about $5 million annually, more than he would've cost had Chicago brought him over last year.
The good thing is Mirotic absolutely torched the Euroleague this season. Still only 23 years old, Mirotic averaged 12.4 points and 4.6 rebounds per game (good for 21 and 8 per 40) and hit 1.3 threes per game shooting an incredible 46% in 31 games.
Mirotic struggled a bit in the Euroleague Championship game in a loss against Maccabi Electra Tel Aviv (my fellow Israelis), which was one of my first chances to watch him play outside of YouTube clips. Mirotic scored 12 points on 3-10 shooting and his youth showed. Mirotic got a lot of chances to work in the post and drew a decent amount of touch fouls, but otherwise threw up awkward hook shots or floaters instead of getting closer to the rim. His jumper looked expectedly Dirk Nowitzki-like but his shot selection wasn't the best.
With his championship performance aside, Mirotic is a fantastic player who would likely be a top ten pick if he were hypothetically in this draft. For casual fans who don't really know his game, think a European version of Ryan Anderson. Mirotic should and will be the Bulls first option in free agency unless they can snatch a superstar.
Longshots
LeBron James, SF/PF, Dwyane Wade, SG, Chris Bosh, PF/C
Haha, just kidding. Not getting into that again…until the Heat lose and the first LeBron rumor comes out of course…
Rudy Gay, SF/PF
Rudy Gay might be the most polarizing player in the NBA. One night he looks like Melo and the next he looks like Antoine Walker. Gay got paid a whopping $17.9 million last season, which is why the Raptors traded him and why he gets a lot of slack from NBA heads. Gay has a $19.3 player option that he'd be insane to not opt into to—unless he's gunning for a title.
Even if Gay decides to opt out, he probably wouldn't take a pay cut bigger than $5 million. The Bulls could try to ship over Boozer's expiring and a couple of draft picks or young players and then sign Gay to an extension.
He may have huge question marks, but he's still only 27 coming off a career high 18.4 PER. He shot 48% from the field in 55 games for the Kings compared to 42% in 2012-2013 with the Grizzlies and Raptors. Gay should be a nice consolation prize if he's willing to take a pay cut.
Second Tier Targets                                                         
Lance Stephenson, SG
Lance Stephenson…it really is hard to limit my opinion of this guy to just a few words. Remember when I said Gay might be the most polarizing player in the league? Pretty sure Stephenson is giving him a run for his money.
Stephenson averaged 14-7-5 and led the league in triple doubles. I'm pretty sure he was also near the league lead in flops, complaining, starting fights—even with his own teammates—and don't forget he's pretty darn inconsistent. His playoff numbers have been nearly identical to his regular season numbers. Similar to his regular season, he'll score 25 points one game and score 19 points combined in the next two, just like he did in games two through four against the Miami Heat in the Eastern Conference Finals. Regardless of his on and off the court issues, he's a hot head who thrives off his anger and loves to take it to any and every opponent. He is a mean defender and enforcer that can play three positions on both sides of the ball. Stephenson is rough around the edges but he has smooth handles, can pass the ball, and a steadily improving jumper. His verbal and physical altercations with teammates throughout the season and the Pacers dire financial situation will make Stephenson a highly available unrestricted free agent. If the Bulls can convince him to take about $10 million per season, the risk might be worth the reward.
Gordon Hayward, SG/SF-Restricted
The only players to average 16-5-5 (without rounding up, sorry Lance) in the league last season were: Kevin Durant, LeBron James, Russell Westbrook, Michael Carter-Williams, and Gordon Hayward. Hayward is the second youngest of those players at 24.
Hayward didn't win Most Improved Player like I predicted in the preseason, but he had another solid season. Hayward shot only 30.3% from downtown after shooting a career high 41.5%, a spike which was likely due to the fact that he played for the sixth worst offense in the league according to offensive efficiency. Hayward wasn't particularly efficient on offense and was an average defender at best. Still, his 6'8" length, ball handling ability, shooting potential, and high character attitude are qualities many teams are after. Hayward is a restricted free agent, so the Bulls will have to give him enough dough to beat any Jazz offer. With the number 5 and 23 picks in the draft, the Jazz might want to turn a new page and let Hayward walk anyways—at least Chicago hopes.
Pau Gasol, PF/C
Pau Gasol is a guy who's been on Chicago's radar ever since he entered the league. He'll be 34 before next season and has ran into some injury problems in LA, but his production is hard to overlook. He'll be an unrestricted free agent and there's no question Kobe Bryant will want his big guy back. Still, Lakers management might want a fresh start. Gasol averaged 17.4 points and 9.7 rebounds per game in 60 games last season, showing off some fresh play with the load of Dwight Howard finally lifted. The Bulls would be smart to avoid another player with high potential to decline just like Boozer. At a price around $10 million a year for no more than three seasons, Gasol would be a great fit.
Others: Luol Deng, Kyle Lowry-Restricted, Greg Monroe-Restricted, Isaiah Thomas-Restricted
Potential Ring Chasers
Vince Carter, SG/SF
It seems like every offseason Vince Carter is available and every offseason the Bulls need a shooter, yet Carter has somehow evaded the Windy City. He's 37 and continues to prove his moniker "half man, half amazing."
He's redefined himself as a team player who is called on to come off the bench to provide a nice scoring punch, capable ball handling and elite outside shooting. He's made at least 146 threes each of the past two seasons and he's found a niche playing short 25 minute bursts off the bench. He was 119th in the league in points per play offensively according to Synergy. He was also 21st in the league in PPP as a pick and roll ball handler and 38th in spot-up. He also ranks in the top half of the league in points allowed per play. As far as ring chasers go, Carter might be the top choice for contenders this offseason if he's willing to take close to the vet minimum.
Others: Paul Pierce, Sean Marion, Devin Harris, Danny Granger, Caron Butler, Emeka Okafor, Jermaine O'Neal, Elton Brand, Chris Kaman, Kirk Hinrich (let's hope not)
Shooters
Jodie Meeks, SG
I don't think Jodie Meeks would've been my first choice last season as far as shooters go, but he really made a name for himself on a poor Lakers team last season. Meeks was an elite 11th in PPP last season, ranking in the top 55 of the league in cuts, spot-up, hand offs, and transition on Synergy. Meeks was a benefactor of Mike D'Antoni's speedy offense, which had the second fastest pace in the league. D'Antoni is the same guy that made Earl Clark look like an NBA player last season, so take Meeks's performance with a gigantic grain of salt. Hell, even the corpse of Chris Kaman had a 28-17-6 game against the Suns—pace can do statistical wonders. Meeks was relied upon at times and according to 82games.com, he actually played point guard about 18% of the time for the Lakers. He only had a 9.1 PER and a 19.2 defensive PER at that position, but it still says something that D'Antoni had so much trust in him. Last season was a breakout season for Meeks. His 38% career from downtown proves that his shooting was no outlier. He only made $1.5 million last season, so an offer of about $3 million could be plenty enough for the Bulls to get him.
P.S.: On an unrelated note, I'm all for the Bulls re-signing D.J. Augustin. He struggled mightily in the playoffs but he was huge during the regular reason where he busted off some big games. It makes more sense plugging a guy like D.J. in as the backup point guard, a guy who already knows the system, than other available guards like Patty Mills and Aaron Brooks who will provide similar production anyways.
P.S.P.S.: I do not want to see Kirk Hinrich in a Bulls uniform anymore. Chicago seriously paid this guy $4 million just to miss the frontend of the game-tying free throws against the Wiz. Please, he's old, can't do much but add some occasional defense and shooting, not worth the headache even for the vet minimum. Keep him away.
Others: D.J. Augustin, Trevor Ariza, Spencer Hawes, Nick Young, Mario Chalmers, Patty Mills, Andrew Goudelock, Jimmer Fredette, Richard Jefferson, C.J. Miles, Aaron Brooks
"Take a waiver" Guys
Michael Beasley, SF/PF
Like Gay and Stephenson, Beasley is a guy with serious, serious question marks. It might seem odd that I've listed so many nutheads as potential targets for the Bulls, but Chicago will get nowhere without taking chances. There are very few championship teams in history that don't have at least one enforcer, head case type on the roster that at times plays for themselves over their teams—it's almost necessary and even expected. Remember Dennis Rodman? Five NBA titles. Birdman? Huge for the Heat. You NEED guys like that. When the Bulls faced droughts against the Wizards and needed a bucket, wouldn't it have been awesome if there was someone on the roster who WANTED to take over and WANTED the ball?
That could be exactly what Be Easy provides. He's no longer making $7 million per season, which makes it all the more tantalizing to take a waiver on him. He's reverted to a bench warmer in the playoffs, but Beasley averaged 21 points and 8 rebounds per 40 minutes for Miami in the regular season at a career high 50% from the field. Youth is becoming a trend in this article. It's unbelievable with all of the ups and downs (OK basically all downs) in Beasley's career that he is still only 25. With the Heat, Beasley got the concept of garbage buckets down pat. The Bulls could offer him fourth quarter crunch time minutes when they need a bucket.
I'm not endorsing the Bulls to get Gay, Stephenson AND Beasley. That would be a mess. But adding one of those guys could do the trick. A competent offensive player with attitude might be the thing this team lacks most.
Others: Jordan Crawford-Restricted, Jerryd Bayless, Jordan Farmar, Shaun Livingston, Evan Turner, Jordan Hill, Dejuan Blair, Rodney Stuckey, MarShon Brooks, Brandon Rush, Ben Gordon
Stats Provided By: mysynergysports.com and 82games.com
For More Great Chicago Sports Content
Follow us on Twitter at @chicitysports23 for more great content. We appreciate you taking time to read our articles. To interact more with our community and keep up to date on the latest in Chicago sports news, JOIN OUR FREE FACEBOOK GROUP by CLICKING HERE