The Chicago Bulls have a few contracts to sort out this offseason, but the estimated price to keep a former draft pick is giving fans headaches about the next offseason. The Bulls are working on a deal to keep Nikola Vucevic with the team for three years. After that, they must decide on restricted free agent point guard Coby White and free agent point guard Patrick Beverley.
Beverley was signed with the Bulls this February. He came to supplant Patrick Williams in the startling lineup. With Beverley likely out of Chicago, Williams can be penciled in as a starter for this season–the final one on his rookie contract. Williams is set to become a restricted free agent next offseason.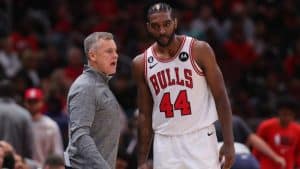 Patrick Williams is looking at 5 years/$100 million
According to a predicted estimate by Keith Smith of Spotrac, Williams' extension with the Bulls is likely to hover around the $100 million mark for five seasons:
"Williams has become one of the most underrated players from this class. He's a good shooter, has shown improvement every season and he's been durable in two of his three seasons. The Bulls roster and cap sheet are in a bit of a weird place, but they can't let Williams leave because of that. The new CBA allowing for non-max rookie scale extensions to cover five years could come into play here.

Prediction: Five years, $100 million, no options "
In today's NBA, those numbers don't seem too unreasonable. It's a lot of money, and one wishes Williams had been more productive on offense and rebounding in his first three seasons. His defense has been spectacular. However, if Williams had been more productive, his salary requirements would be even more expensive to stay in Chicago.
Chicago Bulls fans react on Twitter
Here are the best takes on Twitter to Bulls fans debating if $20 million a year is worth it to keep Williams.
This contract is going to look like a steal when they trade everyone and force Williams to take shots. https://t.co/WxapcPVvQ4

— Mark K (@mkhoops) June 5, 2023
That's insane he deserves nothing more that 10m per year https://t.co/VhaWbu9Wmz

— 🍥 (@cruzassul) June 5, 2023
People are going to say this would be a massive overpay, but with the salary cap increasing, this is going to look like a team friendly deal by the end of the contract (assuming this is what Pat actually signs) https://t.co/GMtSjnai5o

— Bulls Central (@BullsCentralYT) June 5, 2023
https://t.co/1sBQPkaK5y pic.twitter.com/GKjv9wl0eG

— Demarco (@demarco_82) June 5, 2023
don't think it's fair to make Williams pay that much to be on an NBA roster

— BlogABull dot com (@BullsBlogger) June 5, 2023
Maybe a little bit of an overpay right now, but with the continuous cap increase and also banking on him at the very least solidifying himself as a strong 3D big wing, it wouldn't be a bad deal. #BullsNation https://t.co/FxXA1ArxNJ

— Salim (🏀 is 🧬) (@Salim_BGhoops) June 5, 2023
That's crazy.

Exactly why the #Bulls are far from title contending. https://t.co/pxudOWKkx5

— Carlitos (@CHItownHustla15) June 5, 2023
If Pat gets paid that much, then he needs to take EVERY shot he gets and not pass every time https://t.co/PvEeNpH8SD

— 🖤islah🖤 (@LRoyGentleman) June 5, 2023
Would be a fine outcome, with potential to be a value contract by the end of it. The key is the Bulls need to actually invest more in his development if they are going to pay him in this range. But paying the 2nd deal is typically a good gamble and the $ is in the ballpark. https://t.co/lD1CGAOLQY

— Kris (@klahoops) June 5, 2023
For More Chicago Sports:
Follow me on Twitter at @JordanSig, and follow us @ChiCitySports23. You can also reach out to Jordan Sigler via email at jordanmsigler@gmail.com. To read more of our articles and keep up to date on the latest in ALL of Chicago sports, click here! Chicago Bears, Chicago Bulls, Chicago Cubs, Chicago White Sox, Chicago Blackhawks.
For More Great Chicago Sports Content
Follow us on Twitter at @chicitysports23 for more great content. We appreciate you taking time to read our articles. To interact more with our community and keep up to date on the latest in Chicago sports news, JOIN OUR FREE FACEBOOK GROUP by CLICKING HERE