Chicago Cubs Top 20 Prospects for 2011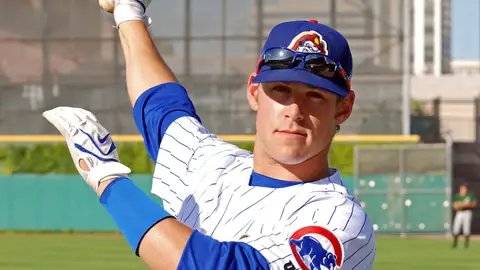 1.) Brett Jackson, OF, Grade B+: Love the broad base of skills.
2.) Trey McNutt, RHP, Grade B+: Hard to believe this guy was a 32nd round pick. . .he's got great stuff.
3.) Chris Carpenter, RHP, Grade B: May end up in the pen, but he's got plus stuff and I wouldn't give up on him as a starter yet.
4.) Jay Jackson, RHP, Grade B: I still like him more than the numbers say I should.
5.) Hayden Simpson, RHP, Grade B-: Could rank at the top next year if he does anything in the pros like he did in NCAA Division II.
6.) Reggie Golden, OF, Grade B-: Enormous potential but very raw.
7.) Josh Vitters, 3B, Grade B-. I expect this will be controversial but he really needs to get things going, and age-relative-to-league is just one factor among many.
8.) Robinson Lopez, RHP, Grade C+: High-ceiling arm, needs refinement.
9) Austin Reed, RHP, Grade C+: Huge sleeper for 2011.
10.) Alberto Cabrera, RHP, Grade C+: Another live arm that needs polish.
11.) Marquez Smith, 3B, Grade C+: Not young, but ready to help at the major league level and can catch people off-guard.
12.) D.J. LeMahieu, INF, Grade C+: I think people are a bit too down on him; he could surprise this year.
13.) Rafael Dolis, RHP, Grade C+: Another guy in the live arm/needs polish brigade.
14.) Brett Wallach, RHP, Grade C+: Another one.
15.) Brooks Raley, LHP, Grade C+: Was very effective in the second half.
16.) Su-Min Jung, RHP, Grade C+: Wasn't great at Peoria, but I think he can get better faster than people anticipate.
17.) Austin Kirk, LHP, Grade C+: Breakthrough candidate for 2011.
18.) Jin-Yeong Kim, RHP, Grade C+: Will he be worth the big bonus?
19.) Ben Wells, RHP, Grade C: Hasn't pitched  yet, but seventh round pick from Arkansas high school has potential as a hard-throwing starter.
20.) Welington Castillo, C, Grade C: Very effective against runners, has some power, but on-base skills are sketchy.
List courtesy of Minor League Ball
For More Great Chicago Sports Content
Follow us on Twitter at @chicitysports23 for more great content. We appreciate you taking time to read our articles. To interact more with our community and keep up to date on the latest in Chicago sports news, JOIN OUR FREE FACEBOOK GROUP by CLICKING HERE