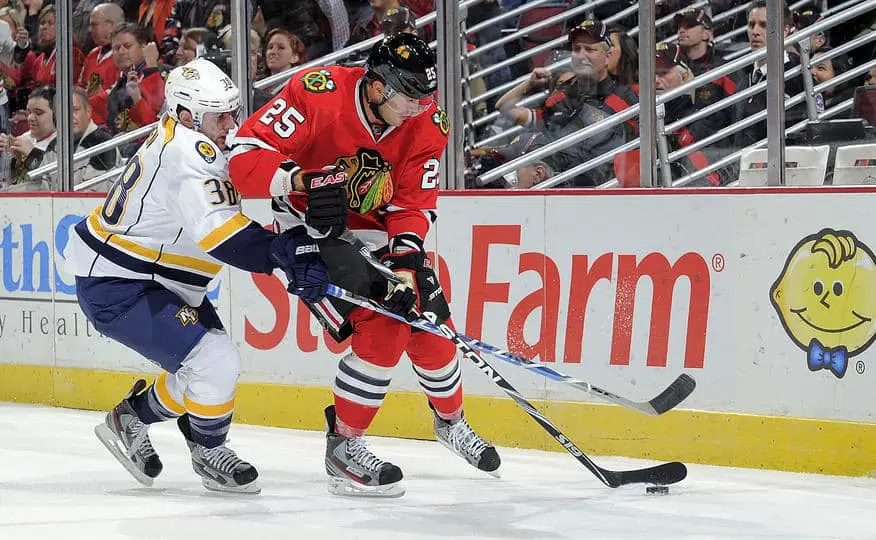 Chicago Blackhawks defeat the Nashville Predators 5-4 in overtime. The Blackhawks have now picked up at least a point in every game this season except 2 of them and have earned a point in every contest at home.
Nashville got on the board first 26 seconds into the game. Kevin Klein dumped a puck into the boards that took a funny bounce behind the net, Corey Crawford misplayed and it ultimately led to a Patric Hornqvist tap-in goal.
With the period winding down, Patrick Kane picked up a bouncing puck from Patrick Sharp, capitalizing on a Predators turnover, and buried home a goal that tied that game at 1.
Early in the 2nd period, Craig Smith roofed a wrist shot past Corey Crawford who was left wide open in the middle of the ice giving Nashville a 2-1 lead. Nick Leddy quietly snuck into a play over 5 minutes later and slapped a shot past Pekka Rinne to tie the game once again.
Two back-to-back penalties towards the end of the period by the Blackhawks gave the Predators a full minute and a half of 5-on-3 play. Patric Hornqvist scored his second goal of the game on the first minor penalty which gave Nashville their third lead of the game.
The Blackhawks, once again, tied the game early in the 3rd period as Patrick Kane snuck one by Rinne for his second goal of the night.
Bryan Bickell put the Blackhawks up 4-3 but that lead only stayed put for a minute and a half until David Legwand slapped one past Crawford who allowed a juicy rebound tying the game at 4. Corey Crawford made a couple key stops late in the game bailing out defenders that lost position.
In overtime, Viktor Stalberg slid home the game-winning goal beating Pekka Rinne past his left pad who looked incredible all night.
Chicago had plenty of opportunities early, especially on the power play. They had 3 man advantages in the first period, including a 5-on-3 but just couldn't find the back of the net. Early in the third period, the Blackhawks had another 5-on-3 advantage for over a minute and a half but Pekka Rinne made several unbelievable saves to keep the game tied.
INJURY REPORT: Duncan Keith left the game mid-second period due to, what looked like, a hand or finger injury. The official report is an "upper-body injury." How predictable.
NOTES
*Dave Bolland led all skaters with 4 takeaways.
*Viktor Stalberg has 3 goals in 2 games after a long scoring drought.
*Patrick Kane was named #1 start of the game; 2 goals and an assist.
*Corey Crawford stopped 24 of 28 shots (.857 save %).
*Power Play: 0-for-7 (0%); Season: 4-for-45 (.08%)
*Penalty Kill: 2-for-3 (66%); Season: 35-for-38 (92%)
WHAT'S NEXT?
Chicago heads to Florida on Thursday for their fathers trip; puck drop at 6:30pm CT!