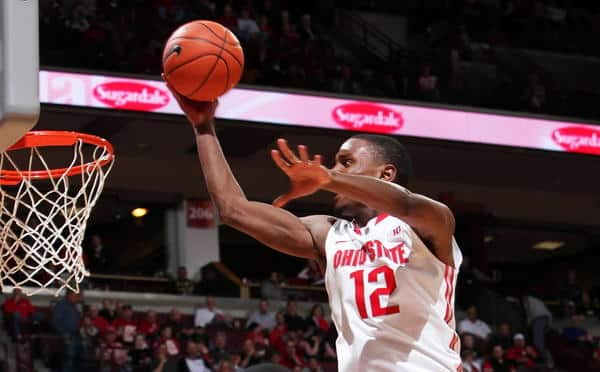 The inaugural CBS Sports Classic on Saturday featured arguably the four most prominent basketball programs in the country in North Carolina, Ohio State, UCLA and Kentucky. The games brought an epic atmosphere to the thousands of fans in attendance at the United Center. The event was special for all involved, but for two players in particular the games held added meaning beyond basketball.
The day of college hoops was kicked off by a ranked-on-ranked matchup between No. 12 Ohio State and No. 24 North Carolina. For Ohio State senior forward Sam Thompson, the game meant a chance at playing in front of a home crowd again. Thompson, a Whitney Young product, didn't disappoint.
Thompson was one of the lone bright spots for an otherwise disappointing effort from the Buckeyes. The wiry, athletic swingman scored a season-high 17 points in a 82-74 loss to North Carolina. Half of Thompson's six field goals were of the dunking variety, which if you've seen him play before, shouldn't come as a surprise.
His best finish of the game came in the first half after Thompson's straight-line drive ended with a ferocious two-handed slam over J.P Tokoto. Thompson's other two slams came off an emphatic putback dunk and an easy  alley-oop flush.
"He's bailed me out of a lot of bad passes just being able to go get the ball at the top of the backboard for me," Ohio State point guard Shannon Scott said. "It's a good feeling to have."
Thompson also collected a couple blocks in his homecoming, including a monster rejection of Tokoto at the rim on a fastbreak. Thompson put a on a show in front of a hometown crowd, but without a win he left the day with a bitter taste in his mouth.
"It's just another game," Thompson said. "It's another game that we have to win. It's a big game, big-time venue, but at the end of the day, you're not thinking about being back home and playing. I'm just thinking about winning the basketball game. I was very disappointed not in the sense that we just came up short but in the way that we came up short."
Thompson wasn't the only player to come home on Saturday. Tyler Ulis, the pint-sized backup point guard for Kentucky, returned to Chicago for the first time since graduating from Marian Catholic last June. Ulis and the Wildcats stepped up on the big stage, and then some. Kentucky was already ahead 16-0, yes, 16-0, before Ulis entered the game.
"Andrew and Aaron (Harrison) started off the run so well, and then we came in and just pushed it from there," Ulis said.
The 5-foot-9 guard helped extend Kentucky's run to 24-0 before UCLA finally got on the board. Ulis may be small in stature, but his game is big. Ulis is arguably the best playmaker on Kentucky and may have the best stroke on the team as well. His 52.6 three-point percentage not only leads the team, but it would rank among the top-25 marks in the nation if he qualified. Freshman guard Devin Booker leads the Wildcats with 22 made 3-pointers, but it's debatable who the better shooter between the two is.
"Devin is really confident in his jump shot," Ulis said. "We go back and forth about who shoots better."
Ulis is a ball of energy whenever he takes the floor, and Saturday was no different.
The freshman finished with seven points, six assists, and a career-high seven rebounds in just 18 minutes of action in a 83-44 Kentucky victory.
"It was fun coming out here, getting a big win like that, coming out with energy," Ulis said. "It's great to win like that at home."
For More Great Chicago Sports Content
Follow us on Twitter at @chicitysports23 for more great content. We appreciate you taking time to read our articles. To interact more with our community and keep up to date on the latest in Chicago sports news, JOIN OUR FREE FACEBOOK GROUP by CLICKING HERE