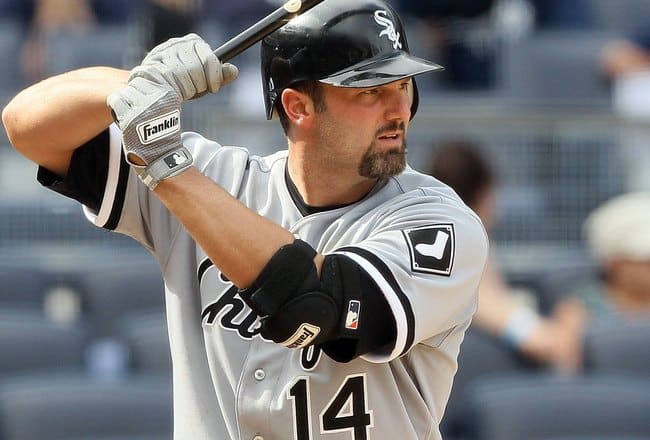 For the last 16 seasons first baseman, Paul Konerko, only occupied the position but quickly become one of the faces of the franchise. After a dismal season in 2013, Konerko announced he would return for his final season as a backup.
With the decision being aided by the signing of Cuban phenom Jose Abreu, the White Sox will have very deep depth at the position. With Konerko and Adam Dunn returning from the 2013 squad, neither project to be the opening day starter.
With Abreu landing a huge contract averaging $11.3 million a year, there is a slim-to-none chance he starts the year in Birmingham.
The stage is set and barring injury, both starting spots are spoken for, which will leave Konerko to pick up playing time any time and anywhere he can.
First Base
Jose Abreu
Averaging a homerun every two games, all while post a line of .453/.597/.986 headlined his last season in Cuba. While Abreu did put up enormous numbers in the Cuban League, he is still a very unknown commodity coming into the MLB.
He does show a defined approach at the plate, showing great patience and a knack for getting on base. While he is not as athletic as Yasiel Puig, he will not need such athleticism to play a somewhat stationary position.
Abreu has been said to have a great work ethic so far and most are expecting a big career from the Cuban. While growing pains are expected with the transition, the 27-year-old is farther along in the development process than the younger Cuban defects that have come over in the past.
If Abreu bats .270, belts 25 homeruns, and gets on base the way he has in the past, his first year should be considered a success.
ESPN has set his over/under home run total for 29 1/2.
Paul Konerko
While giving the Sox a priceless 16 years of his career, the end is near. Konerko watched his career .280 average drop to an uncharacteristic .244 figure. Last year brought a mostly injured season for the veteran but many wonder how much Konerko truly has left.
Konerko still has a sure bat, good glove, and great veteran leadership. All of which will be a great asset to a very young locker room. In the end, he may be looked on to play more of a mentor role to the younger players and less counted on for his production on the field.
If healthy, Konerko still provides good depth and good rotational option to play either position.
Designated Hitter
Adam Dunn
Since signing with the club back in 2011, Dunn has been a pure homer run hitter, to put it nicely. In his first season, Dunn set a new Major League record for lowest batting average at a staggering .159. Since then, Dunn has averaged 37 1/2 homers but just a .212 average.
At age 36, Dunn is in the last year of his four year contract. The team will look for him to put up his usual numbers and no fan should expect any different or better.
Dunn has become a very cut and dry player; What you see is what you get.
For More Great Chicago Sports Content
Follow us on Twitter at @chicitysports23 for more great content. We appreciate you taking time to read our articles. To interact more with our community and keep up to date on the latest in Chicago sports news, JOIN OUR FREE FACEBOOK GROUP by CLICKING HERE