2012 ZiPS Projection: .298/.359/.486, 27 HR, 87 RBI, .364 wOBA
2012 Bill James Projection: .282/.372/.497, 32 HR, 102 RBI, .368 wOBA
2012 Actual Statistics: .298/.371/.486, 27 HR, 87 RBI, .369 wOBA
Exhibit A is one of the better hitters in baseball, with consistent power from the right side of the plate and a calming force in a surprising contender's lineup.
Exhibit B is a hitter struggling to make consistent contact and a generally mediocre, below replacement-level player, still in the middle of the lineup, but instead on a team free falling out of contention.
These exhibits are both Chicago White Sox first baseman Paul Konerko's 2012 season. I would hate to use the "tale of two halves" cliché, but that is exactly what Konerko gave the South Siders in 2012.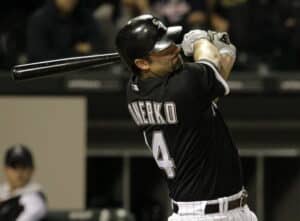 His 29 home runs were disappointing given back-to-back 30 home run seasons and his 2.1 WAR is his worst since 2008 (0.5). Most of his basic numbers regressed a bit, but Konerko remained a solid to above-average hitter.  Should we have expected anything more or less?
The real question is why Konerko collapsed in the second half. Much has been made of Konerko's hurt wrist, which he recently had surgery on, and while that is a reason, it is not an excuse. The season still existed and we cannot dig our heads in the sand and simply throw our hands in the air and act like the second half should not be a concern.
Wrist injury aside, why did two consecutive months of .400 on-base percentage lead to a .323 OBP June and a beyond-painful .282 August?
Looking at the numbers, Konerko started hitting too many grounders.  Konerko's offensive regression in 2012 aligns almost perfectly with a meteoric rise in grounders.
After GB rates of 40 percent, 35 percent and 34 percent in April, May and June respectively, Konerko's ground ball rate jumped to 43.8% in July.
His worst month statistically, August saw an excruciating 50 percent ground ball rate. All-around Konerko's 41% ground ball rate in 2011 was his highest since 2004. Likewise, Konerko's GB/FB ratio (1.13) was also a career-high.
Konerko just cannot afford to put the ball on the ground. He is clearly not a swift runner, so he is certainly not running out any grounders, and obviously Konerko is a player who is more effective when he is putting balls in the air, whether using the home run or generating doubles via line drives.
Strangely enough, pitchers did not seem to pitch differently to Konerko in 2012. Across the board, the pitch types were strikingly similar outside of a slight increase in curveballs thrown (7.4 percent to 10.8 percent).
There is no reason to believe the slight increase has any relation to the higher ground ball rate, but rather the larger issue of Konerko's offensive ability regressing as he continues to age out of his prime.
Of course, it shouldn't seem like Konerko had a bad year or is aging himself out of the lineup because that is not true at all. It was more of a disappointing year because Konerko appeared to be on the path to the best year of his career. Instead, he regressed into a very "Konerko" season.
On the positive, Konerko remains a great hitter with runners in scoring position, putting up a stellar .285/.379/.44 line in that department, and while his raw RBI numbers may be disappointing, he batted behind Adam Dunn, who spent most of 2012 rounding the bases or sulking back to the dugout after a strikeout.
It would be reassuring to say Konerko's first half is something we could see from him again, but that is simply not realistic. He also will not be as awful as he was in the second half, instead, as it usually is with Konerko, it will be somewhere in the middle.
Follow the author on Twitter: @richkraetsch
For More Great Chicago Sports Content
Follow us on Twitter at @chicitysports23 for more great content. We appreciate you taking time to read our articles. To interact more with our community and keep up to date on the latest in Chicago sports news, JOIN OUR FREE FACEBOOK GROUP by CLICKING HERE