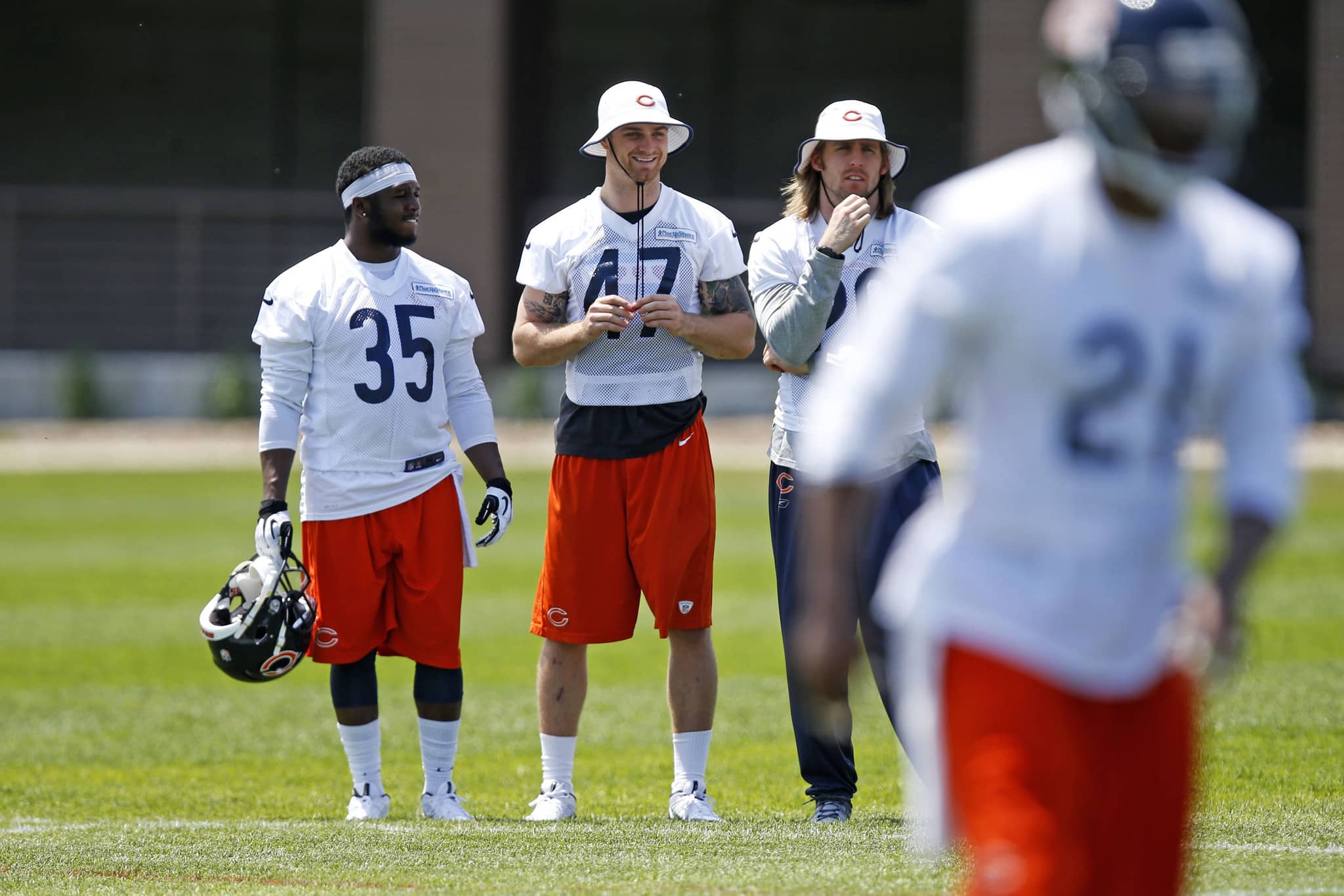 The Chicago Bears have wrapped up the 2014 edition of training camp at Bourbonnais' Olivet Nazarene University. They now head back home before hosting the Jacksonville Jaguars in Week Two of the preseason on Thursday night. Since defeating the Philadelphia Eagles in the unofficial opener last week, many of the Bears injured players have returned to the practice field.
One player who is definitely been happy to get back in shoulder pads is safety Chris Conte. Getting back to practice has been important for him especially since he's now fighting for a roster spot. Conte hasn't exactly had the best NFL career……. He went through a ton of growing pains as a rookie in 2011, battled inconsistency in 2012, then of course there was the misery that was 2013.
So on top of the fact that Conte needs to prove himself in the final year of his contract, he's also recovering from a major injury. After years of shoulder issues -dating back to his college days-, Conte couldn't deal with it any longer and had surgery in the offseason to correct the problem. It caused him to miss all of the offseason workouts, and he spent most of training camp on the Physically Unable to Perform (PUP) list.
If that wasn't bad enough, the Bears stockpiled talent at the safety position through free agency and the draft. Rookie Brock Vereen was selected in the fourth round of this year's draft, Marcus Trice was signed as an undrafted rookie, Ryan Mundy, M.D. Jennings, and Danny McCray were signed when free agency opened up in March, and Adrian Wilson was signed just before the start of camp.
Mix in special teams veteran Craig Steltz, and Conte has plenty of competition ahead of him. So far, everyone has made their case for a roster spot. Wilson, who spent last year on Arizona's injured reserve list due to a foot injury which almost ended his career, has shown in practice that the injury is behind him. He also had three tackles in the Eagles game.
Vereen didn't take long to adjust to the NFL as evidenced by his strong workouts during the offseason program and training camp practices. During last weeks exhibition opener, he led all Bears safeties with five total tackles. Mundy, Jennings, McCray and Trice only combined for two tackles, but Mundy had a first quarter interception, and all four of these men have left a lasting impression on the coaching staff in practice. Steltz on the other hand has been injured along with Conte.
Put all of that together and Conte has a tall task ahead of him to keep his starting job and his roster spot. So here is what the California alum needs to do to stay in a Bears uniform…….. For starters he needs to prove that he's healthy and that the shoulder is no longer an issue. Next he needs to take advantage of every practice rep he can get, intercepting a Jordan Palmer pass in practice on Monday was a good start in that direction.
He also needs to find a way to outperform everyone else on the roster. If by some chance another safety gets injured, Conte needs to take advantage of the potential opportunity to replace that player. Finally, he needs to show drastic improvement in the fundamental department. This would include better tackling, remembering responsibilities, run support, recognizing receiver routes, sticking to coverages, and ridding himself of the mental mistakes that derailed him last year.
It's a challenge that's impossible for most people to take on, but if Conte wants to stay in Chicago in bad enough he'll find a way to meet that challenge. If he's healthy enough to play against Jacksonville at Soldier Field Thursday, we'll get a better idea of how he plans to keep his job.
Follow me on Twitter @GabeSalgado82
For More Great Chicago Sports Content
Follow us on Twitter at @chicitysports23 for more great content. We appreciate you taking time to read our articles. To interact more with our community and keep up to date on the latest in Chicago sports news, JOIN OUR FREE FACEBOOK GROUP by CLICKING HERE