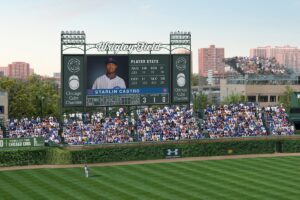 (Photo courtesy of chicago.curbed.com)
On Thursday the City of Chicago approved the Cubs proposal to add a jumbotron and other signs to Wrigley  Field . The deal would allow the Cubs to build a 5,700 square foot jumbotron in left field and a 650 square foot sign in right field. The plan was approved by the city's landmark commission but construction can only begin when the City Council gives there full approval. Another huge obstacle still awaits the Cubs ,and that is the rooftop owners.
The rooftop owners are concerned that the jumbotron and other signs will obstruct their customers views and cause them to loose business. These owners are o the verge of sewing the team in order to make sure that they will not be negatively  affected by the renovations. Said plan is also being scrutinized because of the light that the jumbotorn will produce and what it will do to the Wrigleyville neighborhood.
The cubs and owner Tom Rickets and his family have been preaching to the rooftop owners and Wrigleyville that this plan will have minimal impact on the local rooftop business's. In response the rooftop owners are saying an "impact is an impact no matter how big or small and we don't like it."
Today was a big step in the renovation plans for Wrigley Field, but there are still more problems that need to be solved before construction can begin.
For More Great Chicago Sports Content
Follow us on Twitter at @chicitysports23 for more great content. We appreciate you taking time to read our articles. To interact more with our community and keep up to date on the latest in Chicago sports news, JOIN OUR FREE FACEBOOK GROUP by CLICKING HERE