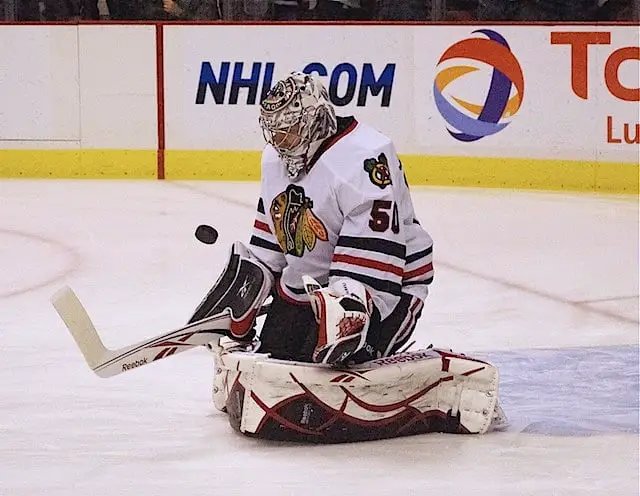 Heading into the 2010-2011 season, the Chicago Blackhawks were hoping to make another Stanley Cup run. The expected starter for the Blackhawks in goal for that season was Marty Turco after the Blackhawks had signed him to a one-year contract. He was coming off a 2009-2010 season with a 2.72 goal against average and a .913 save percentage. Blackhawks fans thought that they may have found an answer to their vacant goaltending position since Antti Niemi was let go after an incredible Stanley Cup season. What they didn't know, was that the true answer was sitting on the bench, Corey Crawford.
Corey Crawford stepped in for the Blackhawks last year and for the majority of the season (55 out of 82 Regular season games) he was their starting net-minder. As the Blackhawks goalie, Corey Crawford put up a 33-18-6 record with a 2.30 Goals against average and a .917 saves percentage- all numbers that were better than Marty Turco.
I had the opportunity to meet Corey Crawford a week ago in Orland Park. When I was on my way up there, I thought about who he was. Was he going to be nice and take the time to talk? Would he keep his head down and just sign a puck and move on? After getting there, when it was finally my time to go up there, I couldn't believe how nice he was. As I walked up there I set the puck down for him to sign and he immediately started in with a conversation about the Blackhawks and if I was die-hard fan. And before I left, he shook my hand and I told him good luck on the upcoming season. I came back an hour later and the line was dead with no one in it. So I took the opportunity and asked Corey Crawford for a picture. He was more than happy to do it for me. He was nicer that I could have ever imagined.
So the next time that you are cheering on the Blackhawks to victory, just remember that the goaltender isn't just a hockey player. He is a person that honestly cares about the fans of the game. I went for an autograph, but by time I got home, I realized that the autograph meant nothing. It was the experience I had with meeting him that I will never forget.
Brandon Newberry
Sources: chicagoblackhawks.com
For More Great Chicago Sports Content
Follow us on Twitter at @chicitysports23 for more great content. We appreciate you taking time to read our articles. To interact more with our community and keep up to date on the latest in Chicago sports news, JOIN OUR FREE FACEBOOK GROUP by CLICKING HERE