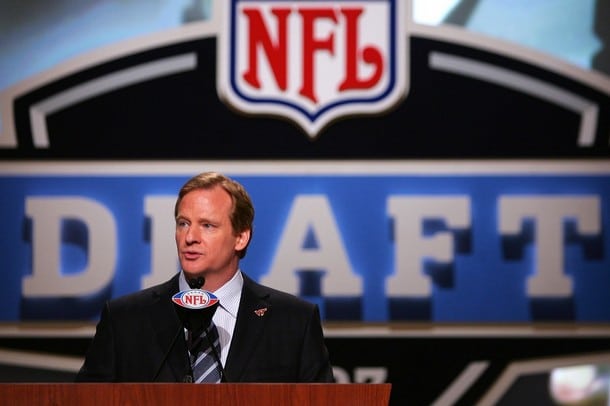 Chicago, like every other team in the NFL, has brought in players to work out or has attended various Pro Days and/or individual workouts to get a first hand look at some of the players that they might be interested in drafting at the end of the month.  Chicago has been looking at a few players and has shown some interest in some that just might be perfect fits on the team.
Let's take a look some of the guys that the Bears have been paying a little extra attention to over the past couple of weeks and whether or not they would be a good fit with the Bears and whether or not they can help this team out in the short term.
Chicago is going to need an outside linebacker (or at least some depth) especially if they are unable to sign either Nick Roach or Pisa Tinoisamoa (or both).  They have shown some interest in Syracuse linebacker Doug Houge and have worked him out individually which makes his chances at getting drafted by the Bears much better.  Will they try to get Houge in the later rounds of the draft?
In terms of some of the much needed offensive line talent that the Bears have been looking at, in addition to working out Florida center/guard Mike Pouncey, the Bears have also worked out Pittsburgh's Jason Pinkston.  Pinkston had a decent enough season at Pitt but does need some work but at least the Bears are looking at offensive linemen.
Back to some additional discussion about Mike Pouncey, not only did the Bears give him a private workout but he's also been contacted by members of the Bear's organization, in particular offensive line coach Mike Tice showing that the Bears have a heavy interest in Pouncey.  As good as he would be for the team, it's unlikely that he will be there when the Bears make their pick at number 29 in the first round of the 2011 NFL Draft.  If they are that interested in him, perhaps they would be willing to trade up to get him but the Bears don't really do that.
The Bears have been taking a lot of looks at defensive players and it would appear as if they are working that side of the ball much more than they are the offensive side.  One of the players that they have shown some interest in recently is Oregon State defensive tackle Stephen Paea.  Paea, well known for his strong performance on the bench press at the combine, has the ideal size to play in the Bear's defensive scheme and may have some value.
Paea may be around when the Bears make their pick at number 29 so if there isn't an offensive lineman available (and even if there is) they may end up trying to take him in the first round.
It's also been reported that the Bears have shown some interest in the much maligned Marvin Austin, a defensive tackle from the University of North Carolina.  Austin doesn't exactly have the best track record but that seems to have been put aside thanks to some solid workouts that he has recently had.  Will the Bears take a gamble on Austin a guy that could turn out to be like former Bear Tank Johnson?
Chicago has taken some interest some other linebackers aside from Houge including Virginia Tech's Steven Friday.  Friday has nice size and ability and could give the Bears some nice depth at the outside linebacker position.
The Bears have also taken a look at a prospect from tiny Tennessee State (this is the same college that produced Hall of Fame defensive end Richard Dent) named Sidney Tarver.  Like Friday, Tarver has a lot of potential and could interest Chicago in the later rounds of the draft.
And Tarver's performance could have further interest to other teams thanks to a great Pro Day workout.  Keep an eye on him as the Bears may end up drafting him somewhere in the upcoming draft.
It's known that the Bears are on the hunt for some depth at the cornerback position and they have taken a look at a small school prospect in Southern Illinois Korey Lindsey.  For a small school prospect Lindsey plays like a Division I cornerback and could be a guy that the Bears draft in the later rounds.
Stay tuned for further updates on the Bears interests as we start to get closer to the 2011 NFL Draft.