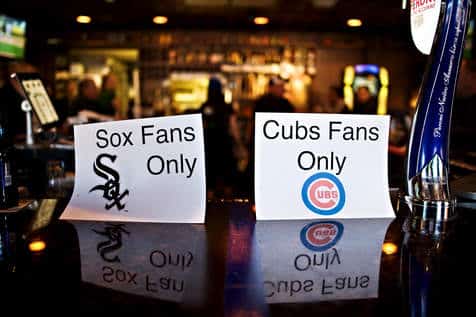 Chicago is one of the few beautiful cities in the nation that is blessed to house two historic franchises. Reasons for being historic differ astronomically, but that makes the statement none-the-less still true.
What's also true is that many people in and around the Chicago area will say that the next four days are their favorite part of the baseball calendar. Even if you're not a diehard, once you're a fan of either team you get it. You understand what it means.
However, if you're a Cubs fan in 2013, it might reach a desperation level not experienced of a White Sox fan. The Sox are around .500 and four games out. The Cubs are well below breaking even and at the bottom of their division. No doubt there's plenty of time in the season for both teams. Yet as a North Sider, we realize that the kinks in our system need to be worked out if we have any chance of getting back in it by the All-Star Break, let alone September.
We're aware that we're struggling and for as decent of a ball club we are this year, we're tired of the same old mishaps we've been experiencing for…well we all know how long it's been. Our pride has taken a hit or two, or seventeen hundred and twenty one.
So when the Crosstown Classic rolls around, it might be the only form of redemption we can find in the entire season. Our goal: to beat the other guys; to show them whose city this is. It's a problem with pride we have. It doesn't matter how much better the Sox are right now, they're by no means dominant in the American League. Either way when it comes to Cubs-Sox, the slate is wiped clean come this time in May.
The slight downside to a fresh showdown are the brand new riders to the bandwagon. People who couldn't give a flying hoot about baseball realize that, other than the Blackhawks-Redwings series, it's the thing to watch in Chicago. Everyone and their mother takes note and takes a side. Yet, we welcome them because after all, we realize the cup brings the city together and that's part of the fun.
Although in all seriousness, we get the biggest kick from particular fans in our lives. It's about the neighbors who come over for barbeques, graduation parties, and Super Bowl Sunday but hang a different flag from their front porch. It's about your boss who makes jabs at the water cooler about how "great" your team is doing. And in some cases it's about your sister, who for some reason decided to take the road less traveled even when your parents raised you both in Wrigley.
And although there is plenty indifference between both of our breeds, this time of year we can stand to be near each other. Whether we're in one another's homes, the same tailgating parking lot, or in one ballpark; we don't just bare it we embrace it. It's the time of year we can take pleasure in one another's company without comprising either team. We can all have our cake. We may throw it at each other before the night is over but we can all start with a piece on our plate.  So the atmosphere will be heated, but it sure is enjoyable.
Speaking of temperatures rising, we relish in our belief that the players care that much more during this series. As fans we understand we might be more concerned than they are, especially at times when playing for a struggling team becomes a going-through-the-motions type of career. Yes to some it's just a job, but out of respect for what we give them 180 days out of the year, we like to believe they respect us enough to fight for our side of town.
Fight, exactly. In years past, the series has had its angst and tension. Without mentioning names (A.J. Pierzynski and Michael Barrett), it has come to serious blows. As much as we don't need or want any more violence in this world, baseball fans deep down appreciate a bench-clearing brawl. It reaffirms the passion we thought the players had in the first place.
What we could less about is the fact that the South Siders have won the cup since its existence in 2010 or that they have about a ten game advantage on us all-time. It's a new year and a new city champ can rise.  Yes we can all agree that at the end of September it's about who actually made it further, if at all, into the postseason. But for the moment, our pride will be at the mercy of a little four game matchup between great rivals.