The Chicago Cubs drafted shortstop Javier Baez 9th overall in the 2011 MLB Draft tonight. Baez is a SS from Arlington Country Day in Jacksonville, Florida.
Ht: 6-1
Wt: 205
B/T: R/R
HS: Arlington Country Day
Year: Sr.
School: Arlington Country Day
State: FL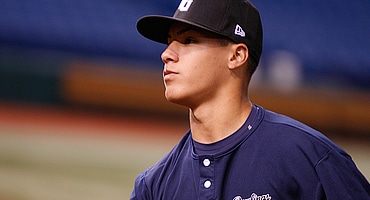 Here is a scouting report from MockDraftMania
Pros

Arm Strength: Baez has a deadly arm when throwing the baseball to first base.  He has that quick release and strong mechanics where he can get rid of the baseball right away.

Durability: Baez has excellent durability.

Baseball IQ: Is smart enough to hit any kind of pitch by hitting a home run, line drive, grounder, or bunt.

Learning Rate: Learns new positions in the infield.  Can play 3rd base, shortstop, 2nd base, or first base.  Rendon is the only other batter who matches that versatility at this point from a defensive aspect.

Awareness: Baez is a smart instinctive batter who recognizes where the pitcher will throw the baseball.

Intangibles: Baez has the intangibles to be an effective batter and may even be a 5 tool player if he can improve his speed.

Production: Some MLB scouts are saying his production as a high school shortstop is really good.  He may even be able to rival Lindor in terms of production.  Baez's is productive, but I cannot see him rivaling Lindor at this point.

Potential: Baez has the upside and potential of a 5 tool batter.

Cons

Size: Size is one of the few weaknesses that you can knock Baez for.

Plate Discipline: This isn't a glaring weakness, but plate discipline is an area he could improve down the road in the long term.

My thoughts on Javier Baez.  Baez is one of the more complete prospects in this MLB Draft.  He could be an all star if he improves his plate discipline because the tools are there for Baez to be productive in the bigs.

 
For More Great Chicago Sports Content
Follow us on Twitter at @chicitysports23 for more great content. We appreciate you taking time to read our articles. To interact more with our community and keep up to date on the latest in Chicago sports news, JOIN OUR FREE FACEBOOK GROUP by CLICKING HERE