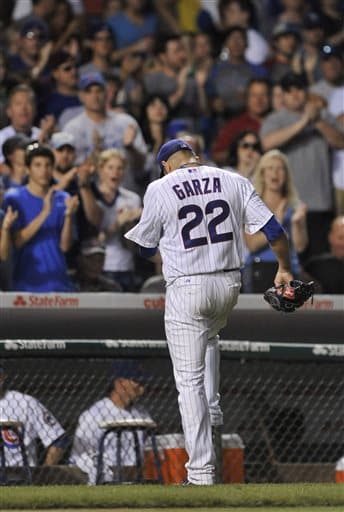 Final Score: Cubs (42-50) 6 Cardinals (56-36) 4
Win: Matt Garza (6-1) Loss: Lance Lynn (11-4) Save: Kevin Gregg (17)
Home Runs: STL: None CHC: Alfonso Soriano (16), Luis Valbuena (8)
Three Stars-Cardinals
3rd Star-David Freese: The normally potent Cardinal offense was quiet today, but Freese, who is now hitting .269, was one of the few bright spots. He only had one hit, but it was a single off of Cubs starter Matt Garza that put two runners in scoring position at the time.
2nd Star-Matt Adams: Another bright spot, Adams added two singles for the Cardinals and drew a ninth inning walk. Adams is now hitting .315/.370/.551 for the Cardinals and has delivered more than what they have asked of him.
1st Star-Jon Jay: The center fielder had four hits, including a double off of Blake Parker. He drove in his 38th run of the season in the ninth inning with an RBI single.
Game Notes:
The Cardinals bullpen combined for 3.2 scoreless innings after Lance Lynn struggled in his start. Lynn let up six runs (five earned) in 4.1 innings, including two home runs. Carlos Martinez had the bulk of the innings for the Cardinals 'pen, throwing two hitless innings.
While the Cardinals offense struggled to score runs, everyone did have at least one hit. They let 13 men on base as a team.
Three Stars-Cubs
3rd Star- Luis Valbuena: Louie V only went 1 for 5, but his one hit was a big one in the form of a two home run off of Lynn. Valbuena continues to sport a good OBP (.344) out of the leadoff spot, despite hitting only .232. The home run was his 8th of the season.
2nd Star- Alfonso Soriano: Fonzi is still in his famous hot streak, homering for the team leading 16th time and doubling for the 23rd time. His hot streak is coming at the right time, as he could be a trade candidate as the deadline approaches.
1st Star- Matt Garza: Although this wasn't Garza's best start, he was again very good for the Cubs. He allowed 10 hits and only fanned four, but stayed in control of the game and only allowed two runs in 6.2 innings. This may have been Garza's last start as a Cubs with trade rumors galore, and according to ESPN's Buster Olney, a deal could happen over the All Star break.
Game Notes:
Kevin Gregg and Blake Parker each allowed runs, though Parker's was unearned, thanks to an error from Julio Borbon.
On the other hand, Matt Guerrier and James Russell did not allow a run, though neither of them pitched a full inning.
Brian Bogusevic and Dave Sappelt came up with stolen bases. It was their 2nd and 3rd respectively.
Sappelt and Starlin Castro drove in runs in addition to the aforementioned homers by Valbuena and Soriano.
Additional Notes:
The Cubs claimed outfielder Cole Gillespie off of waivers from the Giants. No confirmation has been given, but it looks like he well start in AAA.
Nate Schierholtz was kept out of the lineup because of a minor injury. He is not expected to play tomorrow either.
Scouts from the Rangers, Tigers, Orioles and Pirates were at the game, presumably looking at Garza, Russell and Gregg, all trade candidates.
The Cubs will appear on Sunday Night Baseball tomorrow for the first time this season.
For More Great Chicago Sports Content
Follow us on Twitter at @chicitysports23 for more great content. We appreciate you taking time to read our articles. To interact more with our community and keep up to date on the latest in Chicago sports news, JOIN OUR FREE FACEBOOK GROUP by CLICKING HERE