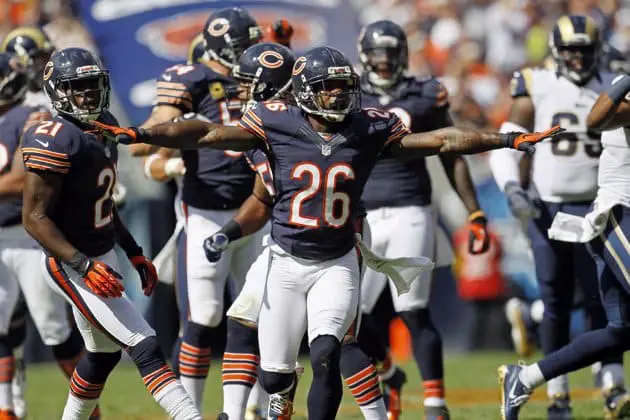 Five Chicago Bears have earned a trip to the Hawaii, to play in the NFL Pro Bowl on Sunday, January 27th. Not shockingly the Bears representatives are defensive heavy and are headlined by corner back Tim Jennings and his league leading 8 interceptions.
It's nothing new for the Bears to have four defensive players elected to the Pro Bowl. But it is new to the Bears offense who has only seen three offensive players in the Pro Bowl since 2007.
That changes this year as Brandon Marshall gets elected to his fourth Pro Bowl in his seventh NFL season. Marshall was the MVP of the 2012 NFL Pro Bowl.
Marshall brings something to the Bears offense they haven't seen in a long time, a true number one receiver. Reunited with his former Denver Broncos teammate Jay Cutler, Marshall has set the Bears record for single season receptions and receiving yards. He's caught 113 passes for 1,466 yards and 11 touchdowns this season.
Corner back Charles Tillman gets selected to his second Pro Bowl in a row as last year was his first ever selection. Tillman was mentioned in Defensive Player of the Year talk early in the season, and has put together a spectacular year with 10 forced fumbles, 3 interceptions and 3 touchdowns on the year.
What might be considered a 'snub' the Bears Lance Briggs was left off the roster. Previous to this season, Briggs had made seven consecutive Pro Bowls. Briggs is closing in on 100 tackles on the season to go with his two forced fumbles and two interceptions.
The Bears land two defensive end selections as Julius Peppers earns his eighth trip to the game, and Henry Melton earns his first ever trip to the Pro Bowl.
Peppers has 11.5 sacks on the season along with 1 forced fumble. Together with Melton, they have anchored the Bears defensive line.
The newcomer to the roster from the Bears is Henry Melton who was on the edge of being elected to the Pro Bowl, but heard his name selected. The defensive ends six sacks and 41 tackles have complimented to the Bears defensive success.
The Pro Bowl will be played at Aloha Stadium in Honolulu, Hawaii and could be the last we've seen of the annual event.