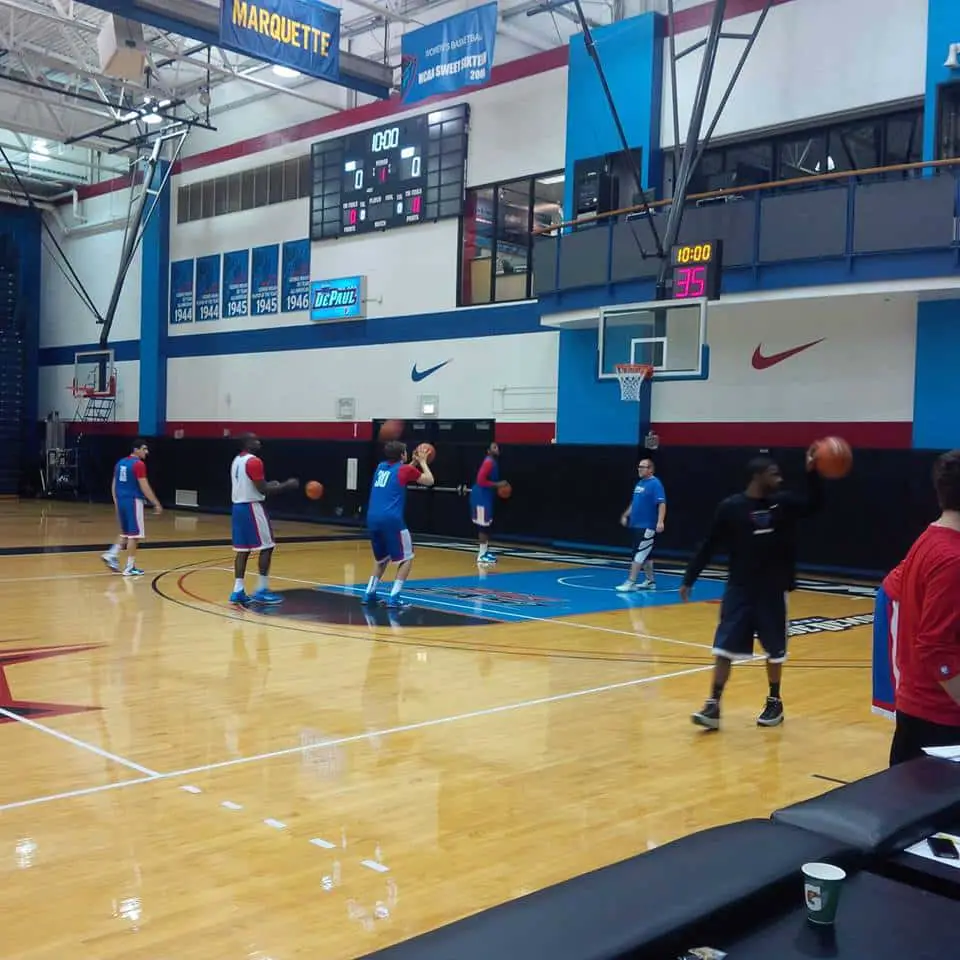 CHICAGO- There's a new vibe at DePaul University these days and it's a vibe that hasn't been felt in quite some time. It's one of optimistic hope, confidence and a new attitude that's slowly taking the Lincoln Park campus by storm. As the Blue Demons get ready for their season opener this weekend, they have a newfound sense of energy that they will take into the 2013-2014 season.
The main reason for all of the positivity is the influx of new talent that head coach Oliver Purnell brought in over the summer. The new look Demons were put on display in their 84-79 victory over Division II Lewis University last week. Even though it was just an exhibition, Purnell learned a lot about his new team.
"Guys are more comfortable with our scheme and things seem to be fitting together" Purnell said about his teams growth. DePaul's scheme isn't as complex as it was in years past.
This year the Demon's have a little more size up front to work with. Against Lewis last week, Purnell started the traditional lineup of two guards (Brandon Young and Charles McKinney), two forwards (Sandi Marcius and Cleveland Melvin) and one center (Tommy Hamilton). It's been a while since DePaul has had a regular lineup on the court, but Coach Purnell doesn't think it's that big of a deal.
"Traditional for who?" Purnell asked with a smile, "I like the size and strength that we can put out on the floor. That's something that we've been missing over the last few years" he added.
Having two starters measuring 6-10 -Marcius and Hamilton- is a major benefit to any college team. The one starter who benefited the most was Cleveland Melvin. Last year Melvin (6-8, 219) was forced to play interior defense against men who were much bigger than he is. Melvin is better suited on the wing as opposed to on the box or in the paint.
Melvin finally got his chance to play his true small forward position against Lewis. He finished the game with 17 points, nine rebounds, four blocks and four steals in 26 minutes. Melvin feels he can be more productive now.
"I definitely feel more comfortable now" Melvin said, "I'm improving my game, my wing skills and it's coming along good."
Some say that Melvin could be a mid-to-late second round NBA draft pick in 2014. Now that he has the opportunity to play his true and natural position, the Baltimore native could work his way into the first round should he decide to go pro. Another Demons player who could improve his draft stock is point guard Brandon Young.
Many times during his DePaul career Young found himself taking on additional responsibilities when it wasn't needed. Responsibilities such as grabbing rebounds, trying to defend in the paint and taking too many shots did more hurting than helping. The reason for that was the lack of big men on the court. Young can now breathe easier with the new depth on the team which will allow him to concentrate on strictly being a point guard.
In last week's exhibition Young led all scorers with 22 points. He also had a game-high three assists and shot 9-of-14 from the field. Coach Purnell expects more performances like this from his star guard as the season progresses.
"It helps when you got more size in the front court" Purnell said when asked about Young not having such a big load on his shoulders anymore. He added, "It allows Brandon to do things that he's comfortable with like playing on the ball, penetrating and scoring off the ball."
Aside from Melvin and Young, the team is improving as a whole. "Our focus and chemistry (has improved)" Melvin said, "We've been working hard and we know how to play together."
"They (the team) seem to be understanding the way things fit together" Purnell said. With the added depth this year, Purnell says that he can also adjust lineups when necessary. "We can play big and strong now, but we can also play quick (with smaller lineups)" said Coach Purnell.
Now that the season is upon them, the Demons will really get to test their talent, depth and Purnell's philosophies. They open the regular season against Grambling State on Saturday night. The team is very anxious to get the season started.
"Our guys are ready to play no question about it" Purnell said. He added, "The guys are tired of practicing against each other." Cleveland Melvin added to that by saying, "I expect us to come out with that energy and be excited about the game."
In just two nights, we will get to see how excited the Blue Demons truly are. Tipoff from the McGrath-Phillips Arena will be at 7pm. Follow me on Twitter @GabeSalgado82
For More Great Chicago Sports Content
Follow us on Twitter at @chicitysports23 for more great content. We appreciate you taking time to read our articles. To interact more with our community and keep up to date on the latest in Chicago sports news, JOIN OUR FREE FACEBOOK GROUP by CLICKING HERE