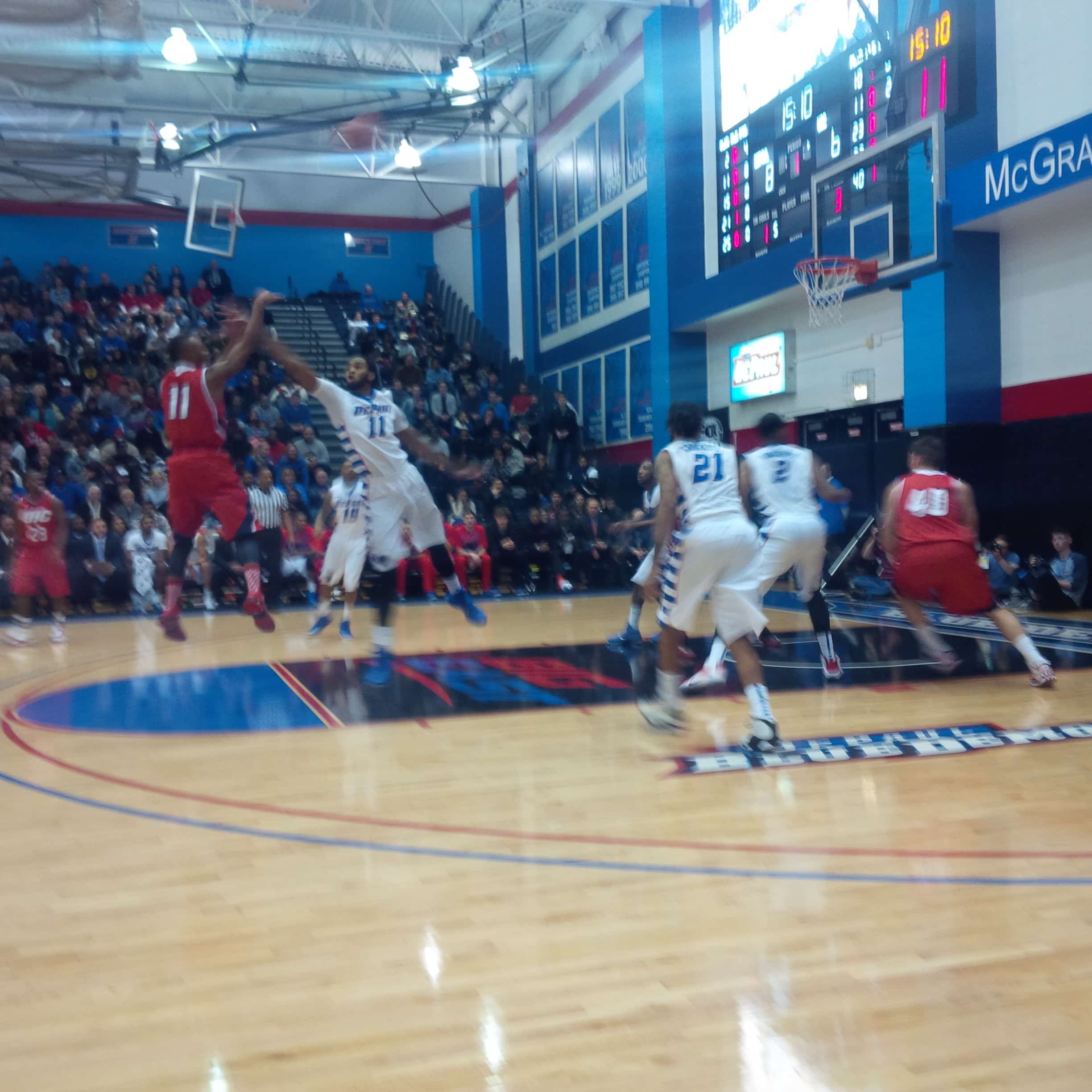 LINCOLN PARK- It wasn't pretty but the DePaul Blue Demons (1-0) opened the 2014-2015 season with a victory. Thanks to a game-winning three-point jumper by Demons sophomore guard Billy Garrett Jr. (12 points, 6-of-12 field goals) with 6.5 seconds remaining, DePaul got past the Illinois-Chicago Flames (0-1) Friday night 72-71.
At first it seemed that the Blue Demons would cruise to victory. They opened the first half with a very strong defensive showing. They did so by holding UIC to just 9-of-29 shooting, and forced seven Flames turnovers including four steals. DePaul took a 46-30 lead into the locker room at halftime.
But things took a complete 360-degree turn in the second half and it almost cost DePaul the game. The Flames made significant adjustments on both ends of the floor. They outscored DePaul 41-26 in the final 20 minutes, limited them to 9-of-25 shooting, and took advantage of some Blue Demon mistakes.
One of those mistakes were the seven turnovers DePaul committed in the second half. They also capitalized on the six-consecutive missed free throws by DPU sophomore center Tommy Hamilton IV ( who finished the game hitting 3-of-10 from the line).
The Flames second half surge gave them a 71-69 lead before Garrett hit the game-winner. Leading the Flames comeback attempt was junior forward Jake Wiegand. He pitched in his first of what will hopefully be many double-doubles with 15 points and 12 rebounds.
Senior guard Marc Brown (19 points) and junior guard Paris Burns (15) also finished in double figures. But in the end it wasn't enough, and UIC head coach Howard Moore acknowledged that after the game.
"It's a tough team to spot 16 points in the first half and expect that you're going to come back and win a game like that" Moore said. He continued, "If (my) team shows up in the first half the way we did in the second half (then) it's a different story."
As for DePaul head coach Oliver Purnell, he was relieved to win despite his teams lackluster second half performance.
"Im thrilled to leave (McGrath-Phillips Arena) with a win" Purnell said in his post game press conference, he added, "Our guys got back to grinding and got back to playing and competing (when things looked bad)."
Despite Hamilton's dismal free throw shooting he was DePaul's leading scorer with 17 points, he also had eight rebounds. In addition to Hamilton and Garrett, junior forward Mike Henry (11 points) and senior center Forrest Robinson (11) also finished in double figures.
Other positives that Purnell can take from Friday's victory are that they outscored UIC in the paint 36-20, scored 14 points off of 13 Flames turnovers, got 20 second chance points, and outscored the Illinois-Chicago bench 20-8.
Under Purnell's watch DePaul has played too many games in which they squandered second half leads. They'll have to keep up the pace for the full 40 minutes if they are to be successful this season. As for coach Moore and his Flames, last season was full of games with failed comeback attempts after trailing at halftime.
UIC needs to play better in the first half so they're not playing catch up in the second. We still have a long season ahead of us but there are mistakes that already need to be corrected. Follow me on Twitter @GabeSalgado82
For More Great Chicago Sports Content
Follow us on Twitter at @chicitysports23 for more great content. We appreciate you taking time to read our articles. To interact more with our community and keep up to date on the latest in Chicago sports news, JOIN OUR FREE FACEBOOK GROUP by CLICKING HERE