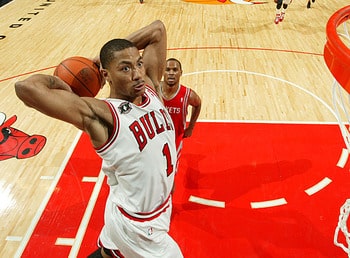 From the moment the Chicago Bulls selected the 6'3" guard from Simeon Career Academy High School with the first pick of the 2008 NBA Draft, Derrick Rose had a massive burden on his shoulders.  The hometown kid had the expectations placed upon him to lead his beloved childhood team back to the peak of the NBA mountain top.
Most people did not believe that the 19-year-old had what it took to lead the Chicago Bulls back into the top tier of the league.
Rose went on to win the 2008-09 NBA Rookie of the Year Award.
In his playoff debut, on the road against the defending champion Boston Celtics, Rose tied Kareem Abdul-Jabbar's record for most points in a playoff debut with 36 (adding 11 assists).
In Rose's second season, he became the first Chicago Bull to make the All-Star team since Michael Jordan.
And now, in merely his third season, the 22-year-old phenom point guard has been voted by the fans as a starter for the Eastern Conference in the All-Star game.
Derrick Rose has some steep competition in the NBA with shining stars such as LeBron James, Dwyane Wade, Dwight Howard, Kobe Bryant, Kevin Durant, Deron Williams, Chris Paul, Blake Griffin and Carmelo Anthony.  Yet it is not hard to make a solid case for D-Rose as the most exciting player to watch in the NBA today.
# 1 – The Hometown Kid
Derrick Rose is the beacon of hope that the city of Chicago has been looking for since the break-up of the Championship Bulls teams of the 1990's.
This kid was actually what the Bulls needed—a familiar face to root for in the cold, business world of the NBA.  The only kind of person that could have generated this much hype, within the city that bared witness to His Airness, was a hometown hero.
Rose is a sentimental favorite in his hometown of Chicago and has given Bulls fans more than just cause for optimism.  His play from his days at Simeon his risen to the level of the NBA, and then some.
# 2 – Improved Three-Point Shooting
One of the biggest knocks on Derrick Rose's game since high school was his lack of outside shooting and that carried over from his college days at Memphis into playing in the NBA.
In Rose's first two seasons in the league, he shot a mere 24.2 percent from beyond the arc.
But since the start of the 2010-11 season, Rose is on target shooting the three-ball.  His three-point percentage has sky-rocketed to 37.9 percent over the first 47 games of the regular season.
This is not a player who you can leave alone outside anymore without him making you pay a price.
# 3 – The Best Crossover in the NBA
Hear the testimonials of NBA players who have held witness to Derrick Rose's basic left-to-right and right-to-left crossover:
Jordan Farmar
"Once he kind of hesitates, he gets you to sleep a little bit.  And then he uses his quickness and speed with the crossover move."
D.J. Augustin
"He's so explosive, so strong, so quick.  If you reach one time, he'll be gone.  It's vicious.  Knocks you off balance and if you're not prepared for it, he'll get right past you."
Raymond Felton

"He has a strong dribble.  His crossover move is so quick.  And once he hits you with the move, he's got the legs and the explosiveness to get right over you and dunk on you."
In conclusion, if you are guarding D-Rose, you better go under the screen and allow him to pull up and kill you with his jump shot.  Because if you don't, he is most likely going to make your ankles hurt.
# 4 – Playing Through Pain
This is the type of guy who is programmed to get right up when someone knocks him down.  After twisting his knee shortly prior, Derrick Rose took the ball to the hole and was undercut by Brandon Rush and took a spill on his wrist with 1:56 left in the Bulls' 92-73 December 13 victory over the Indiana Pacers.
Rose, being who he is, stayed in and finished the game for the Bulls.
"Mind over matter," Rose said. "You want to go out there and play through it."
Derrick Rose is fearless.  He constantly put pressure and tries to rise above and, more often than not, go right through the thick of the opposing defense.  Rose suffered a hip injury at the hands of Orlando Magic' center Dwight Howard in the 2009-10 season.
The next game Rose went up against Orlando, he went right back up at Howard and got hurt again.  This goes to show that this is not a guy who is going be intimidated, for better or worse.
Rose has played in all but one of the Bulls' 48 games so far this season, most notably gutting through games despite being diagnosed with having two stomach ulcers.
While the pain may have held temporarily Rose's field goal percentage down, there were only wins across the board for Chicago.
# 5 – Leadership
If you love watching basketball played the right way, then Derrick Rose and his Chicago Bulls are the team for you to watch.
Under head coach Tom Thibodeau's guidance, the Chicago Bulls now boast a 34-14 record and sit out of reach atop the Central Division.  Derrick Rose simply knows how to win games as the leader of this team.
And he doesn't do it with reckless abandon.  He doesn't force anything; he lets the game come to him.
By being patient on offense and making the right plays, as opposed to being overly flashy like so many young players tend to do, the 22-year-old point guard has given the Bulls notoriety as an elite team in the Eastern Conference, and perhaps all of the NBA.
# 6 – Playmaking Ability
Derrick Rose has upped his assists in the 2010-11 season by over two per game to 8.2.  His offensive awareness has improved and clumsy mistakes have decreased.  When he first came to the Bulls, he had the urge to try to go east-to-west instead of north-to-south.  Now he recognizes what the defense is giving him and feeds his teammates for easy looks.
Whether it's a crosscourt pass to Luol Deng for a three on the wing or dishing it off to Carlos Boozer for an easy bucket inside, Derrick Rose has an array of effective passes, and they just happen to be pretty sweet to watch.
# 7 – High-Flying
This is a guy who has posterized countless victims.  Ask Goran Dragic how he felt when Derrick Rose laid down the hammer on top of him back in early 2010.  Something tells me he will not be trying to block any transition dunks by D-Rose anytime in the near future unless he grows wings.
Rose has a 40-inch vertical leap that terrorizes any unfortunate point guard who has the unfortunate duty of matching up against him.
It could be a one-handed alley-oop flush.  It might be a two-handed tomahawk jam.  But whatever it is, beware.
Whoever is guarding D-Rose needs to remember that he can play above the rim.
# 8 – Arguably the Most Athletic Point Guard Ever
Many great point guards have played in the NBA.
From Bob Cousy, Oscar Robertson, Magic Johnson, Isiah Thomas, Gary Payton, John Stockton, Jason Kidd and Steve Nash to the modern day's Chris Paul, Deron Williams, Russell Westbrook, Tony Parker and Rajon Rondo…
But has there ever been a pure point guard with the athleticism of Derrick Rose?
Rose's combination of size, strength and speed have already set him apart from his peers in an era already filled with great franchise-leading point guards.  It might not be a wild suggestion to say that Derrick Rose has more potential than anybody at his position, past or present.
And with his desire to win and learn from the players who have played before him, that is definitely something to be very excited about if you are a Bulls fan.
# 9 – MVP Chants on the Road
Derrick Rose has heard the naysayers.  People even laughed prior to the current NBA season when he asked, "Why can't I be MVP?"
Well, now we all know why Derrick had that inkling.
In Wednesday night's game, D-Rose heard "MVP" chants.  Not in the United Center in Chicago (where he hears them roar from high in the rafters whenever he steps foot to the free throw line).  Not even in Milwaukee, Wisconsin, or Indianapolis, Indiana, where plenty of Bulls fans have journeyed and serenaded him with those chants.
This time it was a road game at the Staples Center in Los Angeles, California, against the Clippers.
If you want some clear-cut evidence that someone deserves to be handed the big-time hardware for their trophy case, have them go 2,000 miles away from home and see if they get "MVP" chants thrown their way.
If so, you may have a winner on your hands…
# 10 – Finishing Ability
The most impressive detail about Derrick Rose's game may not be the wheeling passes, or high-flying dunks.  Maybe not even his splendid crossover and killer's demeanor on the basketball floor.
The majestic way that Rose manages to get to the rim and finish may be unparalleled in this league.  Rose sports a reverse layup that we may not have seen since Michael Jordan himself.
The Bulls' young All-Star starting point guard has a way of gliding through the defense in such a graceful and evasive fashion that, often, he avoids all contact whatsoever.
And, he has so much upper-body strength that when defenders do crash into him, sometimes he looks unphased enough that the referees' whistles never blow.
The excitement Derrick Rose can generate within the bat of an eyelash as he flies past defenders and through the air is off the charts.
For More Great Chicago Sports Content
Follow us on Twitter at @chicitysports23 for more great content. We appreciate you taking time to read our articles. To interact more with our community and keep up to date on the latest in Chicago sports news, JOIN OUR FREE FACEBOOK GROUP by CLICKING HERE