Scared, selfish, soft, fake, unmotivated, those were just a few of the nicer words that were thrown Derrick's way last season after sitting out for 18 months with an ACL injury. Being ranked 9th on ESPN's top 25 best PG list by Bradley Doolittle. He was also overlooked by being ranked as a part of the 9th worst backcourts in the league. You read that right, 9th worst! He says he didn't hear about a lot of this. He tried not to pay attention to it. But, you know his friends, camp, and teammates made him well aware of the hate and disrespect he was receiving.
If anyone wants to believe Derrick when he says, "I didn't hear much" or "I didn't pay attention to it" then that's fine. Just do me a favor, take a look at his first couple of preseason games then tell me he isn't trying to prove something. The man is playing possessed. He's on a mission not only to be crowned NBA Champion, but also to make the Doolittle's and the "keyboard thugs" of the world look like idiots.
He has made it look easy in the first few outings. A little rusty at first, yes, but easy nonetheless. Getting to the hole at will, locking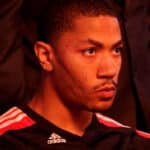 down his opponents on the defensive end, and making them look foolish on the offensive end. This was all apparent in the last game against the Detroit Pistons. At times it looked too easy for him, almost like he was only giving 50% out there. Scoring 22 points in 22 minutes on just 9 attempts. Perhaps the highlight of the night came on an iso towards the end of the first half. Crossing over Piston's guard Peyton Silva and banking in an and-one floater as he fell with 1.2 seconds left. He has returned.
He's bigger and stronger. But, perhaps the most important thing he has gained in his recovery, is more confidence. He is going right at guys. Almost daring them to get in his way as he blows past his defender on his way to the rack.  He's out there proving to fans and the players that he fears no one. His confidence level is at an all time high and could prove to be what makes Rose take that next step in proving his mark as one of the greats this league will ever see.
One could argue that Derrick has the potential this year to separate himself from the rest of the field of point guards in the league. With his toughness, confidence, and mentality that he brings to the court night in and night out, at seasons end I think it's going to be hard for anyone to put him anywhere on the PG list but first. So please, keep hating on Derrick. Keep overlooking him. Please. Nobody is going to argue with you anymore, because our MVP is back, and he's going to do all the talking for us.
Follow me on Twitter: @BullsZoneJason