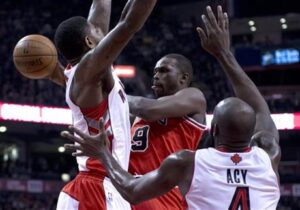 By Riley Christiano
Only 20 hours after the Chicago Bulls' thrilling comeback victory over the New York Knicks, they traveled over the border to take on the Toronto Raptors.
Chicago again was without big men Taj Gibson, Joakim Noah and point guard Derrick Rose. The Bulls were looking to get a win over the Raptors after losing to them on Tuesday. Chicago got off to an unusual hot start where they out-scored Toronto 18-8 in the first minutes. Carlos Boozer was on fire in the first quarter with 13 points and 4 rebounds.
The Raptors made a comeback towards the end of the first quarter sparked by a Rudy Gay coast-to-coast highlight dunk. Toronto dwindled Chicago's lead to two at the end of the first, 22-20. The second quarter, the Bulls were running off of fumes.
Kyle Lowry was fantastic halfway through the game with 7 points 5 assists and 5 rebounds. The Bulls needed fresh legs after a short nights rest, so coach Tom Thibodeau got plenty of minutes from backup center Nazr Muhammad. Chicago had no answer for the speed of Demar DeRozen and Rudy Gay. The mid-range shooting of Rip Hamilton and Carlos Boozer kept this game close at halftime, 47-43 Toronto with the lead going into the break.
The Fatigue of the Bulls played a factor in the third. While Toronto's Amir Johnson, Rudy Gay and Kyle Lowry were magnificent; the Chicago defense had no answer.
Offensively, the Bulls had nobody to turn to. Carlos Boozer registered his fourth foul so he sat most of the quarter in foul trouble. Things got chippy once again, Rip Hamilton got into a scruff with Demar DeRozen.  Hamilton was ejected from the game with a Flagrant 2 Foul called. Another technical foul was called on DeRozen after he got into a verbal exchange with point guard Nate Robinson.
That started a mini run for the Bulls. Robinson hit a pair of three's that pulled Chicago within 4. Rudy Gay was great at the end of the third to extend Toronto's lead to 73-65. To start the fourth quarter, turnovers were a big problem for Toronto putting Chicago on a 6-0 run to jump start the fourth quarter.
Kyle Lowry registered a double-double midway through the last quarter; only two rebounds shy of a triple double. Nate Robinson brought the game to within 6 points by a Rudy Gay three-ball and an Amir Johnson slam brought the Raptors to a comfy 11-point lead. Carlos Boozer fouled out of the game with three minutes left. Amir Johnson played a huge role in this game registering 40 minutes with 24 points and 9 rebounds. The Chicago Bulls were playing with little rest and fell to the Toronto Raptors 97-88.
The Bulls will look to rebound Sunday when they travel to Miami to take on the Heat.
For More Great Chicago Sports Content
Follow us on Twitter at @chicitysports23 for more great content. We appreciate you taking time to read our articles. To interact more with our community and keep up to date on the latest in Chicago sports news, JOIN OUR FREE FACEBOOK GROUP by CLICKING HERE