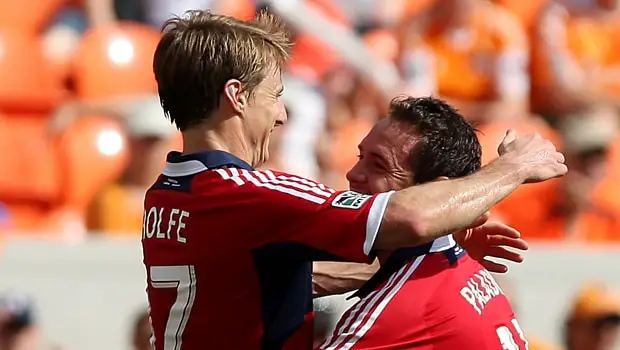 The Chicago Fire declined options on eight players on Monday, including striker and three-time team Golden Boot winner Chris Rolfe and official word on former captain and 2010 team MVP award winner, defensive midfielder Logan Pause.
Both players have been long-term members of the Fire, interrupted only by Rolfe's brief foray into Europe, and Pause at least figures to be a future induction to the Ring of Fire, the team's equivalent of a Hall of Fame, potentially joining a list that already includes Peter Nowak, Frank Klopas, Lubos Kubik, Peter Wilt, Bob Bradley, Chris Armas and C.J. Brown.
Both Rolfe and Pause saw their playing time become more limited as the 2013 campaign progressed, as Rolfe was displaced in the starting lineup by 2013 MLS MVP Mike Magee and designated player Juan Luis Anangono, and Pause lost time to Arevalo Rios, whose option was also recently declined.
Rolfe and Pause were just the beginning of the list of players who had their options declined by the team, as midfielders Joel Lindpere and Daniel Paladini, both having seen significant playing time in 2013, joined reserves Corben Bone, Kellen Gulley, Maicon Santos and Michael Videira on their way out of the Fire organization.
New head coach Frank Yallop stated that the declining of the options on several players does not necessarily signify the end of their tenures in Birdgeview.  "We are actively speaking with several declined and out of contract players about new deals," Yallop said. "We hope to reach agreement with some of them over the next two weeks and will announce as those deals are reached.
Defenders Shaun Francis and Wells Thompson both saw their contracts expire, and will both be eligible for the upcoming Re-Entry Draft unless a new deal can be reached to keep them in Chicago.  Also eligible for the draft are Bone, Lindpere, Paladini, Pause, Rolfe, Santos and Videira.  Gulley is not considered eligible for the draft.
Also on Monday, the Fire exercised their options on ten players, including starting goalkeeper Sean Johnson, starting defenders Jalil Anibaba and Austin Berry, and starting midfielder Alex.  Reserve goalkeeper Alec Kann, reserve defenders Hunter Jumper and Steven Kinney, reserve midfielders Brendan King and Victor Pineda and reserve striker Quincy Amarikwa also had their options exercised by the club.
Other players remaining under contract include starting defenders Gonzalo Segares and Bakary Soumare, starting midfielders Dilly Duka, Jeff Larentowicz and Patrick Nyarko, and starting striker Juan Luis Anangono.