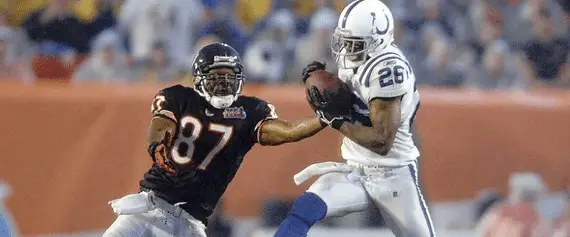 BOURBONNAIS — As word of free-agent cornerback Kelvin Hayden's visit to camp spread Monday, the cornerbacks on the Bears' roster pondered what would happen next.

"It's a business," Zack Bowman said, knowing the talented Hayden could shake up the depth chart.

Tim Jennings, a former teammate of Hayden's in Indianapolis, knows his good friend would instantly upgrade the position, if he's healthy. Jennings also realizes the addition of Hayden could mean the subtraction of someone else.

Jennings has been in a battle with Bowman to keep his starting job.

"I'm not really worried about (starting). I'm worried about whether I am going to still be here," Jennings said. "That's because I know if you bring another starter in, somebody would have to go. Me being the starter right now, I think if they bring Kelvin in as an addition, then you want him to come in and contribute right away."

Indeed, the Bears are high on Hayden, a former Hubbard and Illinois standout who spent six seasons with the Colts before being released. The 28-year-old was the Bears' top free-agent target in 2009 before he re-signed with Indianapolis. He ended last season on injured reserve with a neck injury, but Hayden told the Tribune he is back at full strength.

Coach Lovie Smith was asked about the possibility of adding the player responsible for turning aroundSuper Bowl XLI. Hayden's 56-yard interception return for a touchdown sealed the Colts' 29-17 victory over the Bears.

"I know quite a bit about him. He's a good football player," Smith said. "We're kind of in the informal stages, just really kind of finding out what we can about him and seeing where he is."

Smith went on to say the Bears could keep six cornerbacks like last year. Veteran Charles Tillman and nickel back D.J. Moore seem set at their spots, while Corey Graham is invaluable as a special teams standout. Jennings impressed his teammates with his tough tackling last season, and the coaches still see promise in Bowman and second-year player Joshua Moore.

Hayden would make seven if the Bears are willing to pay his asking price. With nine career interceptions and 46 career starts, it seems unlikely he'd be signed as a reserve.

"Here's a guy who has some good talent, some great skills," Tillman said. "If this is his team, hopefully he can help us win a Super Bowl."

He already helped them lose one.