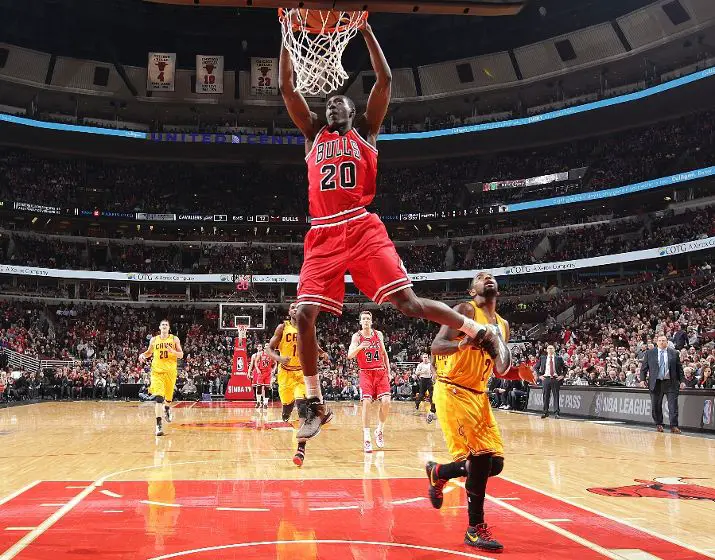 Few players in the NBA struggled more than Tony Snell to begin the season. The Bulls' 2013 first round draft pick couldn't even get on the court during the first couple months of the season, averaging just 9.4 minutes per game in November and then dropping to just 5.8 minutes per game in December. During that December to forget, Snell scored nine points in 69 minutes over a 12-game span. He shot a pitiful 3-of-14 during that stretch, making Bulls fans wonder if the sophomore swingman would ever live up to his first-round billing. Snell's last four games have put that thinking to rest.
"Snelly Cat", as Joakim Noah says, is on fire. Snell is averaging 18.3 points per game over his past four contests, shooting an outrageous 68.3 percent from the field and 60 percent from behind the arc. Snellsanity is upon us.
Snell became the first Bull since Horace Grant in 1991 to score 20 points in back-to-back games while shooting 80 percent or better from the field. But Grant didn't make eight 3-pointers in those two games. No, Snell isn't going to keep up this ridiculous pace, but can the once coveted 20th selection in the draft live up to his initial expectations?
Tony Snell 2014-15 Shot Chart
Snell has an impressive shot chart despite his inability to throw a ball in Lake Michigan to begin the season. Snell's offensive approach is perfect for a role player. He knows his limitations offensively and plays to his strengths. A whopping 86.7 percent of Snell's shots come inside the paint or behind the arc, making him an advanced stats darling. This shot distribution plays in Snell's favor as he's finishing a sky-high 63.6 percent of his shots at the rim and converting on 38.5 percent of his 3-pointers.
Snell has a deadly jumper with his feet set. He has a beautiful, high-arcing release that splashes through the basket when his shot is on. Snell has a lot of work to do off the dribble, but his solid stroke has created driving lanes as of late. Snell attacks closeouts well and uses his almost 7-foot wingspan and 36.5 inch vertical to finish in the paint with authority. He's also a nifty player around the basket, regularly utilizing runners and flip shots which are uncommon for a player with his size. Snell's inability to draw contact and create his own shot will likely keep him from becoming a central offensive player, but he already has the physical tools to continue being an impact off-ball.
Arguably the most intriguing aspect of Snell's game is on the other side of the court. Snell's physical profile gives him the chance of becoming a stellar defensive player. According to SportVU, Snell is holding opponents to 44.1 percent shooting from the floor this season and just 33 percent shooting from greater than 15 feet. Snell excels as a perimeter defender with his quick feet and long arms, as displayed by LeBron's eight turnovers on Thursday. Snell's length hasn't led to many steals or blocks yet, but that's because he rarely gambles.
Snell's slim build can become a problem down the road if he's expected to play important minutes for the Bulls this season. Snell has allowed opponent's to shoot 68.4 percent from less than six feet from the hoop this season. Snell is listed at 200 pounds, but he likely weighs much less than that. Players consistently bully Snell in the post, such as Joe Johnson for a stretch earlier this season. He also struggles to fight through screens and stop players at the rim once they have a full head of steam. Even with his slight frame, Snell is already a solid defender and he'll only continue to improve with more playing time.
Unfortunately, Snell likely isn't going to turn into a star. He's already 23 and hasn't shown any ability to contribute as a primary offensive player. Even in college at New Mexico, which isn't exactly stifling competition, Snell was never the go-to guy. Although Jimmy Butler also started his ascension during the second year of his career, Snell isn't as talented or as versatile as the first time All-Star. Snell may not be a future star, but he could be exactly what the Bulls need right now.
Chicago has needed a swingman who can consistently knock down shots and defend multiple positions. Considering the money the Bulls have already committed to this season, that solution will likely have to come internally. Snell can be that "3 and D" guy for the Bulls as long as he continues to play to his strengths and compete defensively. Snell might struggle with his shot every now and then, but the lengthy swingman will stick in the Bulls' rotation, even with Mike Dunleavy Jr. back from injury. Let's hope Kirk Hinrich is the odd man out (probably not, but I can only hope).
Even if Snell is never more than a role player, he has a chance to be a damn good one. A couple weeks ago that wasn't the case.
For More Great Chicago Sports Content
Follow us on Twitter at @chicitysports23 for more great content. We appreciate you taking time to read our articles. To interact more with our community and keep up to date on the latest in Chicago sports news, JOIN OUR FREE FACEBOOK GROUP by CLICKING HERE