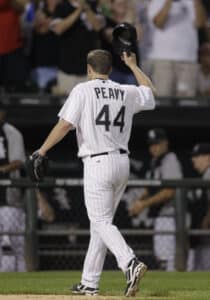 Monday afternoon the Cubs dealt star pitcher, Matt Garza, to the Texas Rangers. This move should have come as no shock to Cubs or Ranger fans alike as Texas and the North Siders had been courting each other for weeks trying to work out a deal. When that deal was made, it caused quite a stir among baseball circles . Jeff Passan said via twitter that the Rangers probably upped their offer at the last minute due to division rival Oakland starting to get into the mix for Matt Garza's services. Richard Durrett of ESPN Dallas even chimed in that the Rangers overpaid to get the market's top pitching, but most teams do that anyway.
So what was this haul that the Cubs got? #1 Ranger prospect, 3B Mike Olt. Quickly perusing through Olt's statistics one can see a glaring flaw in his development so far, he doesn't make consistent contact. In addition, Olt is having vision problems that may be contributing to him having a regressive 2013 campaign. However, Olt has plus power and is a threat to go deep anytime he bats. To make things better, Olt is also a true third baseman as his arm projects to play well there. You take the good with the bad when developing players like Olt.
The others involved at the moment are RHP Justin Grimm and RHP C.J. Edwards, there is also a player to be named later who is thought to be Neil Ramirez or two lower tier prospects. In Justin Grimm, the Cubs acquire a pitcher who has shown that he can pitch in the majors, more impressively, the American League. Being inserted in the Cubs rotation and pitching in the National League should allow him to thrive. Edwards is only pitching at the A level but appears to be progressing rapidly and is not slowing down his impressive K/BB ratio of about 11.
All this said. The Cubs made out like bank robbers, but what does this mean for the White Sox and Jake Peavy?
Considering that the Cubs made out with two of team's top fifteen prospects, in a fairly rich farm system, with a major league ready pitcher and a PTBNL, I'd say things are looking up for the Pale Hose. Garza, with a similar rich history of injuries and a lackluster pedigree compared to Peavy, is a free agent at the end of the season. Jake Peavy, a former Cy Young Award winner, still has another year of control left on his contract if the team that desires him wished to keep him past the half season they get him. As stated above, Peavy also has a better track record than Garza. Peavy has a temper, but aims it in the right outlets, whereas Garza is know to flair up on the mound. Adding fuel to the already smoldering passion teams should have for acquiring the guy, Peavy is a former Cy Young Award winner and a leader in the clubhouse who his staffmates live to emulate.
All in all, Peavy is anticipating for a trade. Chuck Garfien reported that Addison Reed was quoted as saying "It's probably going to happen." and Garfien also wrote that Peavy is "bracing" for a trade. So what should the White Sox get for him? Probably more than any team can afford. Garza has set the market sky high and it is unlikely that any team will be able to match such a deal for Jake Peavy.
For More Great Chicago Sports Content
Follow us on Twitter at @chicitysports23 for more great content. We appreciate you taking time to read our articles. To interact more with our community and keep up to date on the latest in Chicago sports news, JOIN OUR FREE FACEBOOK GROUP by CLICKING HERE