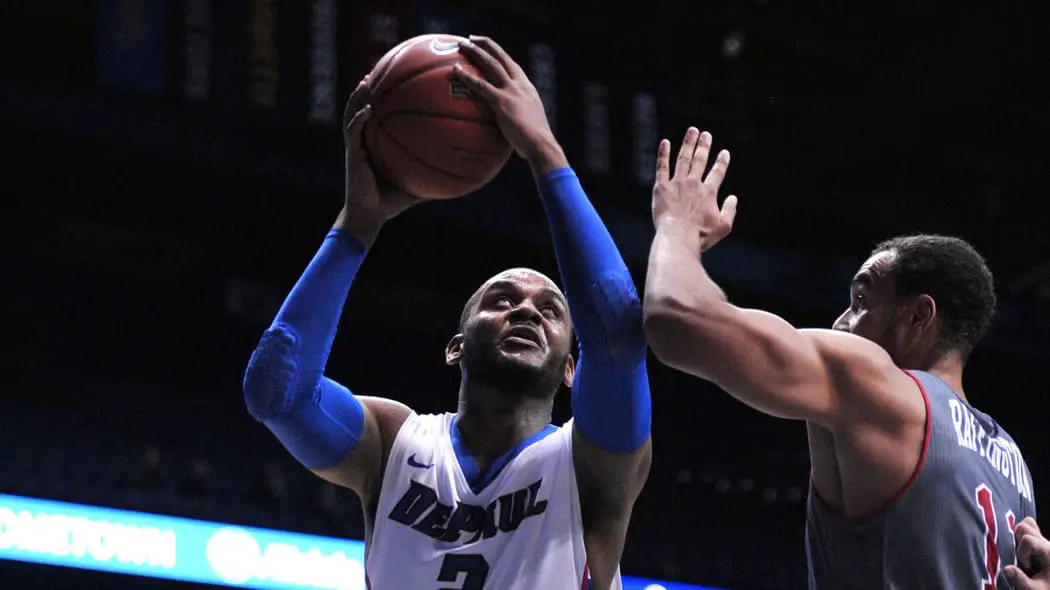 When the DePaul Blue Demons go head-to-head with Seton Hall later today, they may be shorthanded come game time. Freshman center Tommy Hamilton IV is questionable with a bruised sternum, and junior guard Charles McKinney has been ruled out with a sprained ankle. Both men sustained their injuries against Xavier on Monday afternoon (an 84-74 loss).
Hamilton took an elbow from Xavier center Matt Stainbrook midway through the first half on Monday. He would miss the rest of the game and has been limited in practice since then. As for McKinney, he landed on his ankle while attempting to grab a rebound during the second half of Monday's home loss. While McKinney won't play (he was still on crutches as of Thursday), Hamilton is a game-time decision.
McKinney is only averaging 4.9 points per game this year, but he plays 19 minutes per game. His leadership will be missed but thankfully DePaul still has plenty of depth behind starters Billy Garrett Jr. and Brandon Young. Expect to see more minutes out of senior Edwind McGhee, freshman R.J. Curington, and sophomores Durrell McDonald and Cory Dollins.
Hamilton (averaging nine points and five rebounds per game) is a starter so if he is unable to go then the Blue Demons have a variety of options they can choose from. The most likely option will be to start three guards with senior forwards Cleveland Melvin and Sandi Marcius as the only players in the front court. They could also plug in either Greg Sequele or Forrest Robinson-both juniors-in the middle with Melvin and Marcius.
The final option would be to move Marcius to center and start either DeJuan Marrero or Peter Ryckbosch-both sophomores-along side Melvin. Either way; should Hamilton be unable to go, you will see more of Robinson, Sequele, Ryckbosch and Marrero. One player you won't see is junior forward Jamee Crockett. He remains suspended for an unspecified violation of team rules.
The Demons (10-10, 2-5 Big East) are looking to end their two-game losing streak. They have a great opportunity to pick up a road victory over the Pirates (11-8, 2-4 Big East) who have lost four of their last five, and have the worst three-point defense in the conference (36.6 percent). DePaul is also looking to beat Seton Hall for the first time since 2006. The Pirates lead the all-time series 9-3.
Follow me on Twitter @GabeSalgado82
For More Great Chicago Sports Content
Follow us on Twitter at @chicitysports23 for more great content. We appreciate you taking time to read our articles. To interact more with our community and keep up to date on the latest in Chicago sports news, JOIN OUR FREE FACEBOOK GROUP by CLICKING HERE