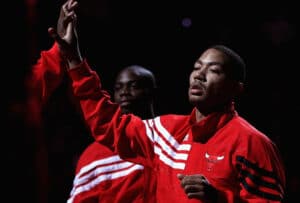 Bulls fan expected the 2011-12 Chicago Bulls to build on last year's impressive Eastern Conference Finals berth, but at this point, I can safely say that this year's Bulls team is in a worse position than last season.
I hate to say this, especially after last night's thrilling victory over the Milwaukee Bucks on Derrick Rose's buzzer-beater, but it needs to be said.
Despite minimal roster movement and the NBA's best winning percentage (80.5 percent), I am not convinced this year's Bulls team is better than last.
The first reason is uncontrollable and that is injuries.
Last year's Bulls dealt with injures to Joakim Noah and Carlos Boozer at separate parts of the season and center Omer Asik in the playoffs.
Other than those three, the Chicago Bulls were remarkably, if not luckily, healthy. Luol Deng, Kyle Korver, C.J. Watson and Keith Bogans played all 82 regular-season games, while Derrick Rose and Ronnie Brewer played 81 and backup forward Taj Gibson played 80. The Bulls were one of the healthiest teams in the NBA.
This season the luck has clearly run out as Rose, Deng and Watson have dealt with a multitude of injuries. Rose has had issues with his toe and back, and while he has had great performances lately he still seems slowed by back spasms.
Deng has recovered nicely, but for someone with a history of injuries it is still worrisome to say the least.
The most notable injured player has been free-agent acquisition Richard Hamilton, who has appeared in only 16 games for the Bulls this season, first dealing with a groin injury and more recently a right shoulder contusion and a mild sprain of the right shoulder.
Hamilton's litany of injuries and missed time presents a real problem for the Bulls, who need to make a decision quickly on whether to move forward with Hamilton or look for a more durable replacement at shooting guard.
I would like to see the Bulls move in a new direction as I have grown tired of waiting to see how Hamilton fits in when healthy.
At this point, the Bulls have an idea of how Hamilton fits, and even when healthy it's debatable whether he is a game changer.
The other reason for the Bulls' regression is interior defense.
Last night's game against the Milwaukee Bucks was just a microcosm.
Ersan Ilyasova and Drew Gooden looked like All-Stars as the Bulls' frontcourt, most notably Boozer, struggled on defensive rotations.
Statistically, the Bulls are still one of the best defensive teams in the league, but numerous times we've seen skilled big men slice their interior defense to shreds. Noah has stayed relatively consistent, but the defensive regression of both Gibson andAsik has affected the Bulls tremendously.
Asik, though showing improvement offensively, is not the same force defensively as he was last season. While still a plus defender, the Bulls will need Asik to be a top-flight defensive center again.
Boozer's defensive struggles almost speak for themselves. Last year and throughout his career, Boozer was never regarded as a good defender, but his missteps this season have been beyond maddening.
Worse yet, his breakdowns are becoming obvious to his teammates as we are routinely seeing the Bulls individually frustrated when Boozer misses an assignment.
These two issues are somewhat controllable, so all hope is not lost for the Bulls.
At the end of the day, the Bulls still have the NBA's best record, but Chicago fans are lying to themselves if they do not have genuine concern for the long-term playoff viability of this Bulls team.
Without a healthy consistent shooting guard or consistent interior defense, the Bulls may not get their rematch against LeBron James and the Miami Heat in the Eastern Conference Finals.
For More Great Chicago Sports Content
Follow us on Twitter at @chicitysports23 for more great content. We appreciate you taking time to read our articles. To interact more with our community and keep up to date on the latest in Chicago sports news, JOIN OUR FREE FACEBOOK GROUP by CLICKING HERE