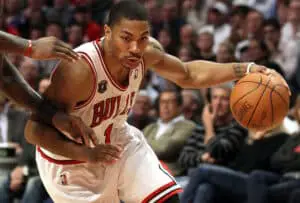 As if there was any doubt, the first man to arrive at the Chicago Bulls training facility this morning was last season's MVP and superstar Derrick Rose.
Things didn't go as planned initially, but once Rose was inside the Berto Center, he had a number of important things to say.
With the NBA lockout now officially over, players can resume talks with their NBA teams and begin training once again.
Unfortunately for Rose, the lockout was not all the way complete as he had not received a key and was actually physically locked out of the Berto Center this morning.
Once in the building, Rose showed the mental capacity, poise and determination that turned him from budding star into the league's Most Valuable Player.
"It was on me, I'm the reason we lost those games…little mistakes, not making the extra pass, not having the confidence," said Rose in regards to the Bulls 4-1 series defeat at the hand of the Miami Heat. "I don't look at others, I have the ball the majority of the time."
Internalizing the blame as Rose does is rare for a number of NBA superstars, let alone a 23-year-old, but Rose appears to understand his role in the Chicago Bulls, making a successful run to an NBA Championship.
Chicago Bulls fans and the NBA as a whole was witness to Rose's development as a player in the 2010-11 season. Rose developed a more consistent jump shot and rose his three-point percentage from 26 percent to 34 percent while his three-point attempts rose from a meager 0.8 per game to 4.8 last season.
This year's target of improvement appears to be the post-up game that Rose claimed to have worked on in addition to his isolation game. A strong post-up game from Rose will increase the amount of opportunities he can have against lesser, weaker point guards as well as allow for additional passes out of the post.
The real test will be how Rose handles the ball with his back to the basket. Numerous players, including Eastern Conference Finals foe LeBron James, have struggled mightily reading their floor with their back to the basket.
As far as the continued idea that the Bulls are an underdog in the Eastern Conference, especially amidst rumors of Chris Paul demanding a trade from New Orleans to New York, Rose stated, "I take it out in the gym… it's okay that we are under the radar."
Rose reiterated his desire to get back to work in addition to how much he missed head coach Tom Thibodeau. More importantly, Rose expressed missing "Thibs," pushing him as a player, and was eager to get things rolling for 2010-11.
"My goal this year is to win a championship."
For More Great Chicago Sports Content
Follow us on Twitter at @chicitysports23 for more great content. We appreciate you taking time to read our articles. To interact more with our community and keep up to date on the latest in Chicago sports news, JOIN OUR FREE FACEBOOK GROUP by CLICKING HERE