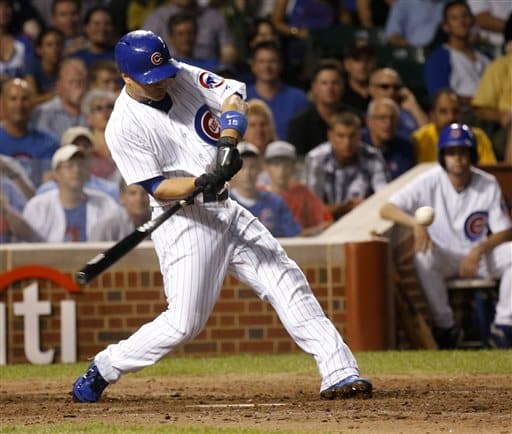 Win: Travis Wood (6-6) Loss: Joe Blanton (2-11)
Home Runs: CHC: Anthony Rizzo (13), Alfonso Soriano 2(15), Starlin Castro (5), Darwin Barney (5) LAA: Albert Pujols (14)
Three Stars-Angels
3rd Star-Mark Trumbo: Not a ton of Angels had real great games, but Trumbo did hit a ninth inning double and drew a walk.
2nd Star- Alberto Callaspo: He had a similar game to Trumbo, but his double came at a more opportune time, while the game was still in reach.
1st Star- Albert Pujols: One of the biggest Cub killers of all time struck again, hitting a two run homer in the seventh, the 27th of his career at Wrigley. Pujols also added a single.
Game Notes: 
Mike Trout and starting pitcher Joe Blanton each had a hit apiece.
Garrett Richards and Michael Roth threw scoreless innings in relief.
Blanton let up six runs on eight hits over five innings and suffered his 11th loss of the season.
Three Stars-Cubs
3rd Star- Anthony Rizzo: The first baseman homered for the 13th time this season and also singled, raising his average to .242. Hopefully this is the start of a nice run for Rizzo, who his trying to break out of a mini slump.
2nd Star- Travis Wood: On almost any other night, Wood would be the first star, but tonight was an exception. Wood was cruising until the seventh, when he made one mistake and allowed an Albert Pujols blast. The All Star recorded his MLB leading 17th quality start and his ERA stands at 2.69.
1st Star- Alfonso Soriano: Soriano stayed red hot, homering twice more. Sori's homer streaks, one of which he is in now, benefits the Cubs, and this one couldn't come at a better time, as he could generate a ton of interest on the trade market.
Game Notes:
As mentioned earlier, the Cubs middle infield tandem of Darwin Barney and Starlin Castro each homered.
Dioner Navarro doubled and Nate Schierholtz and Travis Wood also chipped in a hit.
Blake Parker, Matt Guerrier and Pedro Strop combined for 2.1 scoreless innings out of the pen.
Additional Notes: 
The Cubs have won four games in a row and now have a better record than the Padres. With a Giants loss, the Cubs will be ahead of them as well.
The Northsiders go for a two game sweep tomorrow at 7:05. C.J. Wilson will oppose Jeff Samardzija.
For More Great Chicago Sports Content
Follow us on Twitter at @chicitysports23 for more great content. We appreciate you taking time to read our articles. To interact more with our community and keep up to date on the latest in Chicago sports news, JOIN OUR FREE FACEBOOK GROUP by CLICKING HERE