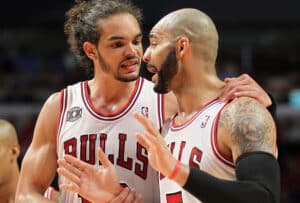 Much has been made in the past week about the struggles of the Chicago Bulls frontcourt.
Joakim Noah and Carlos Boozer have seen their overall statistics take a sharp decline and more importantly are finding themselves on the bench in key fourth quarter situations.
Bulls head coach Tom Thibodeau was asked why he was playing Taj Gibson and Omer Asik were played more prominently at the end of games.
"We're going to do what's best for our team, for winning… Most times [Boozer and Noah] are going to be out there. In certain situations, if teams are small, if they have shooting on the floor, then sometimes you have to change. But most of the time they're going to be out there."
Take that quote how you can it but at its core Thibodeau is admitted the Asik/Gibson combination is better for the team success. Thibodeau later in the interview went on to say Asik/Gibson were his "defensive closers".
Any way you interpret Thibodeau's quote, it is not good. The point remains Boozer and Noah continue to find themselves on the bench at the end of games.
It is especially troubling when you consider Boozer and Noah take up nearly $23 million of the Bulls payroll in 2011-12.
How can the duo get their fourth quarter minutes back?
It is simple… they must learn to coexist.
It seems simple in theory but Boozer and Noah have mixed like oil and water as members of the Chicago Bulls.
Boozer came to Chicago last summer as the big free agent signing when the Bulls could not secure Dwyane Wade and LeBron James. Boozer was going to give the Bulls an interior presence to counteract the emerging Derrick Rose and lead the Bulls to the next level.
You could argue the Bulls have reached that next level, but it largely has been Luol Deng and Rose's progression, not Boozer.
Noah, who was a questionable draft pick from the beginning improved his game tremendously and became an All-Star level player last season.
The kicker though, is Noah's best ball was played when Boozer was nursing an injured hand.
Once Boozer recovered, Noah very quickly found himself plagued by the injury bug, in his case an injured thumb.
Even then, when the duo was together they never seemed to click, something always seemed off.
Statistically, the Bulls best lineup last year did not feature Noah and Boozer, instead the lineup capped by Asik and Gibson (along with Rose, Ronnie Brewer and Deng) turned out to be the Bulls best (+77).
This season, we have seen much of the same. The Asik and Gibson combo make up two of the Bulls top five floor units at +38 and +19 respectively.
The starting lineup featuring Boozer and Noah comes in at +18, which is still respectable but the numbers indicate the Bulls are simply a better team with Asik and Gibson on the floor.
When Noah and Boozer are on the floor together neither seem to be aware of the others space.
Noah tends to stand around idle when Boozer begins his post-up moves, which is leading to the worst rebound rate (17.2 percent) since his rookie season.
Worse yet, even when there are rebounds, Boozer and Noah seem unaware of who should grab the rebound as evidenced in Friday's game against the Boston Celtics when Noah and Boozer bobbled numerous rebounds, leading to turnovers.
Noah's staggering regression is glaring and some have even attributed his poor play to the negative influence of Boozer. Not only is Noah's field goal percentage at a career low, he's also picking up a higher volume of fouls than ever before.
Comcast SportsNet Chicago's Mark Schanowski claimed on The Score 670's McNeil and Spiegel Show last week that much of Noah's foul trouble stems from Boozer.
 "I think one of the issues is that he's getting into a lot of early foul trouble because he's trying to help his buddy (Boozer) out. (Boozer) won't move his feet, so Joakim is getting a lot of fouls…(Bulls head coach Tom) Thibodeau, who demands constant, outstanding work from everybody else, doesn't seem to do it as much with Boozer. I think that probably causes some friction."
Either way, the problem remains. Two of the top three highest paid players are sitting in their warmups during the fourth quarter.
To get their minutes back the duo is going to have to learn how to coexist. You hate to make them a package deal but its obvious Thibodeau sees them as such.
If the duo wants to be in the game in crunch time, they are going to have to learn to work together. Noah has to be more active on shots Boozer takes and Boozer himself needs to improve his defense.
If each can take little steps in improving how they interact on the court, they will find themselves back in big games.
Noah's rebounding regresses with Boozer on the floor and that cannot continue. Whether it is Noah standing around waiting for Boozer to make his post move or Noah simply not giving full effort, it has to change.
Boozer himself needs to be aware of the type of plays that make Noah valuable which is largely put back downs and open cuts around the basket.
In addition, Boozer needs to get better at defense. He finds himself in the wrong place numerous times and puts little effort into rotation, which puts many of the players, Noah included, in bad places.
That does not give Noah an excuse for a career low field goal percentage, but again there are numerous problems with this duo.
The situation is reaching a critical point.
This idea seems silly to mention on a 12-3 team but Thibodeau himself has said he views Asik and Gibson as starters, which is extremely disheartening.
"I have a lot of confidence in both. You can make a case that they're all starters. And sometimes you may have a big who's in foul trouble. [The opponent] has a big up front that is scoring in the low post so you go to your bench so you can play aggressively. All four guys, we need them, and we count on them."
This seems well and good, it shows the great depth of the Bulls but despite all the great things Asik and Gibson can do, they are nowhere near as talented as Boozer or Noah.
Asik and Gibson are certainly great depth players, but with how much money is invested in Boozer and Noah, they not only need to play better together, they have to.
The duo can regain its fourth quarter minutes but learning how to be a better floor unit.
The two must coexist, play off one another's skills and begin to mesh or continue to watch Asik and Gibson close out games.
For More Great Chicago Sports Content
Follow us on Twitter at @chicitysports23 for more great content. We appreciate you taking time to read our articles. To interact more with our community and keep up to date on the latest in Chicago sports news, JOIN OUR FREE FACEBOOK GROUP by CLICKING HERE