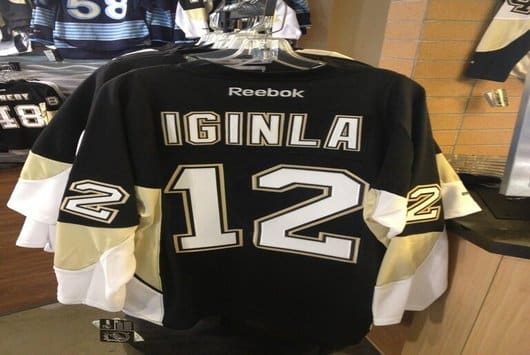 The Chicago Blackhawks were never seriously in contention to acquiring Jarome Iginla.  The Boston Bruins appeared to have acquired Iginla late Wednesday night. But early Thursday morning, the Calgary Flames announced that he was traded to the Pittsburgh Penguins. Acording to Flames General Manager Jay Feaster, Iginla requested to be dealt to the Pittsburgh Penguins.
The Pittsburgh Penguins have acquired Iginla, Brendan Morrow, and Douglass Murray in the last week (all separate trades).  I believe the Penguins felt that they needed to make these moves in order to "supersede" the Hawks' talent. The Penguins are on a 14-game win streak and had a contending roster before these moves transpired. But now it is easy to say that they are the team to beat in the Eastern Conference, if not the league.
It is probably a good that Iginla did not end up with the Hawks. Chicago is stacked at the wing positions, and they will receive help in those areas once Patrick Sharp and Marian Hossa return (likely beginning of next week).  What the Blackhawks really need is a second line center. As I said in my previous article, Derek Roy and Mike Ribeiro would be the best fits for the Hawks.
Even if the Blackhawks decide not to do anything at the trade deadline, that may not be a bad at all. Before this season, Blackhawks General Manager Stan Bowman only signed defensemen Michal Rozsival and Sheldon Brookbank. Although there were many fans that wanted to shuffle the Hawks' current nucleus, Bowman stuck to his gut. To his credit, his plan paid off. The team received at least a point in each of their first 24 games. It will be interesting to see what Bowman does, or does not do, before the April 3 deadline.
For More Great Chicago Sports Content
Follow us on Twitter at @chicitysports23 for more great content. We appreciate you taking time to read our articles. To interact more with our community and keep up to date on the latest in Chicago sports news, JOIN OUR FREE FACEBOOK GROUP by CLICKING HERE