The Illini head into their first matchup of the 2022-23 with high hopes for another stellar season under Brad Underwood's regime
The Illini will take on the Eastern Illinois Panthers for their season opener. This begins a run of three home games against lower-level opponents before they head out to Las Vegas to play UCLA in the first part of the Continental Tire Main Event. As is the case all throughout the country this season, many of the high-major programs are not facing other high-major programs in their season openers, that's the case for the 23rd-ranked Illini as well.
Projected Starting Lineups
Eastern Illinois

G Caleb Donaldson (6-foot-4) (St. Cloud State transfer) (17. 6 ppg last season)
G Kinyon Hodges (6-foot-2) (Three Rivers transfer)
G Dan Luers (6-foot-4) (7.8 ppg last season)
F Paul Bizimana (6-foot-8) (7.4 ppg and 4.1 rpg last season)
C Kyle Thomas (6-foot-10) (Freshman)
They have the size to somewhat match up with a high-major team like the Illini, but they don't have a lot of returning players, and chemistry could be an issue. I'm very interested to see how players like Coleman Hawkins and Dain Dainja match up with a freshman center like Thomas, I would think that they'd have a major advantage. But the bottom line is that the Panthers were a bad offense last season, ranking 357th out of 358 Divison I teams in adjusted offensive efficiency, per KenPom.
Illinois

G Skyy Clark (Illini debut)
G RJ Melendez
G/F Terrence Shannon Jr. (Illini debut)
F Matthew Mayer (Illini debut)
F Coleman Hawkins
I'm expecting Underwood to roll out the same lineup that he had in their exhibition game with Quincy. I don't think it'll be far into the game when players like Ty Rodgers and Jayden Epps enter the game. I think the Illini will be aggressive with each lineup with an emphasis on turning the Panthers over.
The Analytics Between the Two Teams
Let's take a look at how KenPom and Haslametrics have these two teams graded before the season begins.
KenPom

Adjusted Offensive Efficiency – ILL 43rd, Eastern Illinois 358th
Adjusted Defensive Efficiency – ILL 27th, Eastern Ilinois 315th
Adjusted Tempo – ILL 148th, Eastern Illinois 215th

Haslametrics

All-Play Percentage – ILL 27th, Eastern Illini 355th
Offensive Efficiency – ILL 31st, Eastern Illinois 359th
Defensive Efficiency – ILL 24th, Eastern Illinois 329th
The Illini clearly have a major advantage in the metrics. It's no surprise given the talent gap and the fact that the Panthers' offense was unbelievably bad last season. This could be the weakest opponent on the Illini's schedule this season, and I mean that with no disrespect.
Players to Watch & Prediction
I don't think the Illini will have many issues with the Panthers in this game tonight. They have too much talent, the gap is enormous. With the Players to Watch choice, I'm going with players that I want to evaluate and see something from them rather than the "best player" on each team. Here they are:
Players to Watch

Eastern Illinois – C Jermaine Hamlin

How could I not go with former Illini Jermaine Hamlin? He got injured last season and played just 11 games. He will likely come off the bench tonight, but it'll be interesting to see how he plays

Illinois – F Matthew Mayer

I need to see something from Mayer. He struggled mightily in the exhibition game and could lose his starting spot to Rodgers if struggles out of the gate. This is a good matchup for Mayer to do his thing, especially on the defensive side.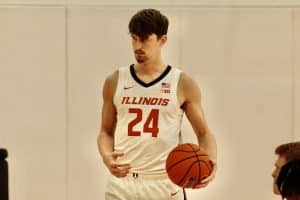 The Illini should take care of business tonight over Eastern Illinois. Other things to watch are how many turnovers the Illini have and can generate, as well as how many threes they take in this game. If Illinois turns this into a track meet, it's going to get ugly fast.
For More Great Chicago Sports Content
Follow us on Twitter at @chicitysports23 for more great content. We appreciate you taking time to read our articles. To interact more with our community and keep up to date on the latest in Chicago sports news, JOIN OUR FREE FACEBOOK GROUP by CLICKING HERE