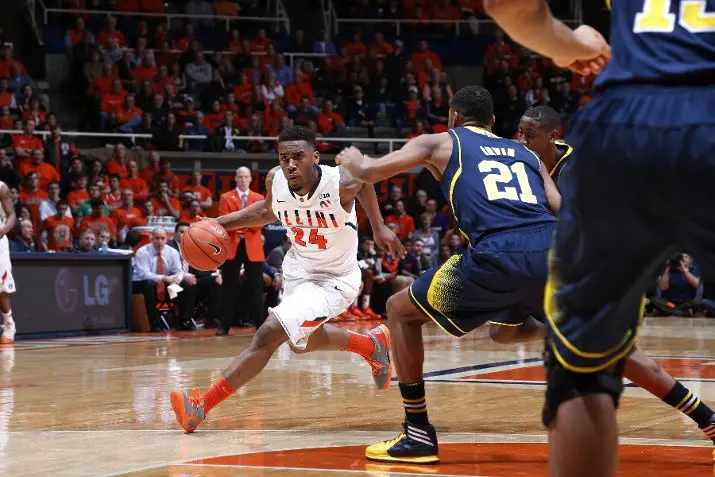 In their last four games, Illinois has done something they haven't done since 1947—hold each of their opponents to less than 50 points. On Tuesday, well, let's just say they might have to start another streak. The Illini let up 52 points against Michigan—in the first half.
The recent hot play for Illinois was extinguished by No. 12 Michigan, who shot their way to an 84-53 win.
After losing 10 of 11 games, the young Fighting Illini squad seemed to have turned a switch, winning three straight games.
Illinois was coming off their first win at Michigan State since 2006, where they led for nearly the entire contest up against a hostile East Lansing crowd.
With the Wolverines in town, the Illini squad turned another switch—but this time, they turned down.
With the State Farm Center ready for renovation on March 6th, this was the last home game for seniors Joseph Bertrand and Jon Ekey. It certainly didn't end the way the two seniors had hoped for.
Bertrand made his first and only basket of the first half on a jumper cutting it to a 17-13 Michigan lead with 13:22 left in the first.
Ekey finished with four points and three rebounds shooting 2-6 and Bertrand finished with four points on 1-3 shooting, both off the bench.
Underclassmen wings Caris LeVert and Zak Irvin split back to back three pointers to give the Wolverines their first double digit lead of the game at 23-13. The three-point shot was the weapon of choice for Michigan as it's been for them all year long.
The Wolverines shot a ridiculous 11-14 from downtown and 19-28 from the field in the first half. John Groce said they were "shooting a golf ball into an ocean."
Despite shooting 54.2% from the field, the Illini trailed 52-30 going into the locker room after a deep buzzer beater three from sophomore Nik Stauskas.
At 6'6," Stauskas got his shot off wherever and whenever he wanted to. The crowd chanted "U-S-A!" at the Canadian born Stauskas throughout the night, but he was happy to answer with a three.
Stauskas had 21 points shooting 6-7 from deep when Illinois only had 31 points themselves—it was that kind of a night.
Stauskas finished with a game-high 24 points shooting 8-11 from the field and 7-9 from deep.
It's hard to win games when the other team makes 14 more three-pointers on only five more attempts. The Wolverines shot 16-23 from downtown and the Illini shot a dismal 2-18.
The fact is, whether it's staying active on the defensive end, boxing out, taking charges, or diving on loose balls like Ekey did midway through the second half,  this Illinois team shows up to play each and every day. But it's not a question of effort in the Big Ten. It's a question of execution.
"Execution on their behalf, thumbs up, execution on our behalf, thumbs down," Groce said. "Those two in equation together is not a good recipe."
With under 12 minutes to play, the rowdy Illinois crowd tried to will their team back into the game, raising to their feet after Ekey attempted a three from the corner.
Ekey's three didn't fall in and LeVert and Stauskas responded with a couple three's of their own, extending it to a 66-41 Michigan lead.
Good teams know when to capitalize when they smell blood. Bad teams fail to convert on easy opportunities like hitting the opener jumper.
"When you play a really good offensive team, one that's second in the country in offensive efficiency and you make those errors they make you pay," Groce said. "You're playing Russian roulette at that point you're just hoping they miss and unfortunately for us tonight they did not miss very many."
The Illinois defense has carried them all season long, but even the best of defenses have struggled against Michigan this season. The Wolverines aren't a powerhouse by any means, but a top 15 team in the nation is gonna have games like the Wolverines had against the Illini, at least every once in a while.
"It's a lot more fun when you're on the positive side of the perfect storm," Groce said.
Michigan is a young team themselves, but their ability to draw fouls, hold onto the ball, score in transition and swish balls from outside is a combination that only handful of teams in the nation has.
Nebraska, Minnesota and an injured-riddled Michigan State team were still great wins for Illinois, but Michigan proved to be a different monster. That gap is even more evident in a transitional year like this one for the Illini, and it's the reason why Michigan players showcased their new Big Ten championship hardware they clinched after this game.
The good news is only Bertrand and Ekey are departing. An influx of new talent will join back to back Big Ten Freshman of the week Kendrick Nunn and co. next season.
Sitting at 17-13 on the year, Groce has created a gritty, grind in grind out culture in Champaign. With the culture part down pat, now all they need is the talent.
For More Great Chicago Sports Content
Follow us on Twitter at @chicitysports23 for more great content. We appreciate you taking time to read our articles. To interact more with our community and keep up to date on the latest in Chicago sports news, JOIN OUR FREE FACEBOOK GROUP by CLICKING HERE