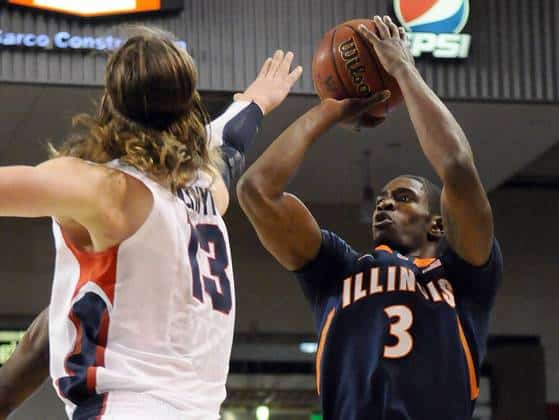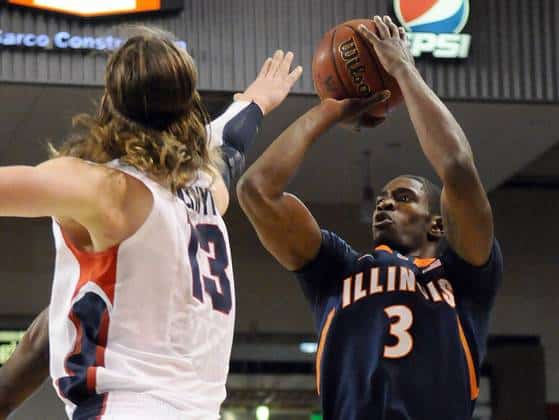 Heading into last Saturday night, it seemed all too familiar for the Fighting Illini. You'd be hard pressed to find another 9-0 team in the nation facing so much doubt and uncertainty.
Just a year ago, Illinois went 10-0, earning themselves the No. 19 ranking in the nation. Led by future NBA center Meyers Leonard, fans in Champaign began to quietly make rumbles and start pulling out their orange and blue gear once again. People started fantasizing about the Sweet Sixteen, even the Final Four…and then something snapped.
Illinois lost 15 of their last 22 games and buried the Illini nation's hope with them. A team with such rich and proud history now felt far from their past glory. It wasn't long ago when Illinois made eight straight tournament appearances from 2000-2007, including four Sweet Sixteen's, two Final Four's, and National Championship runner-ups in 2005.
Once Leonard left for the draft and coach Bruce Webber was fired, the future for the Illini was written. It started with a word that makes every sports fan queasy. Rebuild.
After Saturday night, everything snapped once again. Rather than breaking apart, everything came into place.
The No. 13 Illini took on No. 10 Gonzaga in one of the toughest places to play in all of college basketball, the McCarthey Athletic Center in Spokane.
Coach John Groce rallied his men into unknown territory, accomplishing something the Illini haven't done in 26 years. Illinois fought back from an early 11 point deficit to shock the Zag nation en route to an 85-74 win. The win marked the first time Illinois has won a top 10 non-conference road game since 1986.
Fans will jump to the conclusion that the glory days have returned, but Groce has kept his group modest.
"Obviously coming off a big emotional win on Saturday night where I thought our guys showed a lot of resiliency down in 11 in a very tough environment to play in, I'm very proud of their toughness and the way that they stuck together," Groce said. "I definitely feel like we're getting better every day and as long as we continue to have that mindset, that by no means, obviously it's still early we haven't arrived."
The Illini are off to another 10-0 start, but this Illini team looks like a different monster.
From 1-12, this roster has a different demeanor. A combination of confidence and humility that is unseen by a group of 20 something's.
No one has shown more progression than senior shooting guard Brandon Paul. Paul exploded for 35 points against Gonzaga, doing everything on the offense end from drawing fouls (10-11 FT's) and hitting three's (5) and adding three steals and two blocks on the defensive end. Paul's stellar play earned him Big Ten Player of the Week honors for the second time in his career. Paul is averaging a career-high 19.5 points per game at an efficient clip of 48% from the field and 41% from three.
Groce stressed two things to Paul heading into the season: leadership and consistency. Paul has accomplished both at a high level.
"I think a lot of it has to do with his mindset," Groce said. "He's starting to understand and grasp the concept of being even keel, right there in the middle, not getting too high and not getting too low, practice habits, every day you have to bring it."
As Illinois sniffs a top ten ranking for the first time since their glory days, this overachieving squad continues to rewrite their future. The 2012-2013 Illinois team won't jump the gun on their expectations. They play each game at a time and their outlook goes as far as their next opponent.
Just four days prior to their win at Gonzaga, Groce admitted that he hadn't really watched any film on the Zags yet. He was too preoccupied preparing for their next game against Western Carolina.
In just three games, Illinois will head to Missouri for the dreaded Arch Rivalry game against Mizzou.
Still, Groce isn't overlooking anyone.
"Obviously when you're dealing with 18 to 22 year olds sometimes that can be difficult, that humility," Groce said. "That's our challenge, we're gonna see how mature we are this week coming into two home games, the first of which is tomorrow against Norfolk State."
I think it's safe for fans to start bringing out their  Illini gear once again. Day by day, game by game, and slowly but surely, the Illini are quickly erasing that horrible word—rebuild—and writing a new future in the process.