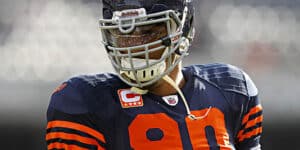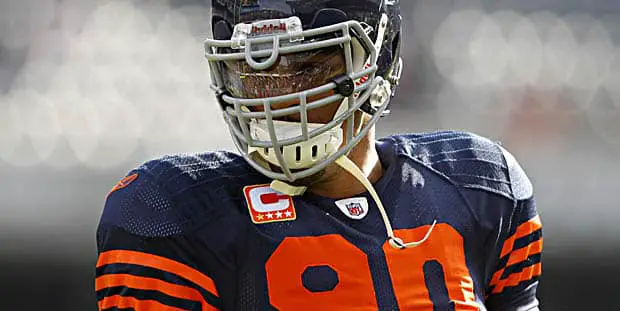 I remember the excitement that I had when I found out that the Bears has signed free agent defensive end Julius Peppers.  It was nice to see that the Bears were very aggressive in free agency and ended up going out and therefore ended up going out and signing the best player in free agency last year.  Peppers was the hottest player available last year and the Bears, known for being one of the most frugal teams in free agency periods of the past went out, spent the money and got the guy that they wanted.
Although Peppers didn't put up huge numbers last season his presence on the defensive line was one of the biggest reasons why the Bears had success on defense last season.
Peppers ended up playing in and starting in all 16 games for the Bears and he had a total of 54 tackles with 43 solo and 11assisted. He had eight sacks, nine passes defended, two interceptions and three forced fumbles.
Peppers was a huge help not really because of the numbers that he put up but for what else he was able to do.  Opposing offensive linemen "feared" Peppers for what he could do and how he could well he could put pressure on or get to the quarterback.  Being an extremely strong and athletic defensive end has its advantages and opposing offensive linemen had to try to do everything that they possibly could to try to slow him down.
Sometimes that would involve being forced to do something illegal to prevent Peppers from getting to the quarterback and this was evident several times during the season.  It was most evident in the Bear's first game against the Packers as three penalties (two holding calls and a false start penalty) came as a result his presence and not his numbers.  This helped the Bears defensive line try to dominate in games.
Peppers presence also allowed previously little used defensive end Israel Idonije to have a breakout season of sorts and provide some decent play on the opposite side of the line.  Prior to the 2010 season, Idonije had just eight sacks but in 2010 he matched that number and added three passes defended with three forced fumbles.
So with Peppers helping to draw some of the attention and take on some of the blockers he definitely made things much better for Idonije.
And he made things better for the other guys playing around him.  Both linebackers Brian Urlacher and Lance Briggs had Pro Bowl seasons as did the secondary which had previously struggled due a lack of a pass rush.  With the Bears pass rush being that much better in 2010 the secondary didn't have the kind of pressure on it that it once had and they performed much better last season.
So will Peppers have a year similar or better to the one that he had last year?  He will have to deal with some changes on the defensive line as Tommie Harris (not really a huge factor last year) won't be around next season and the Bears may choose to not resign Anthony Adams.  Those changes could have a direct effect on how Peppers plays.
But he's still got his skill and ability and will still make offensive coordinators concerned about him getting to the quarterback to the point that he will cause those coordinators to have to game plan against him specifically.  His presence will disrupt offenses forcing them to do something perhaps outside of their game plan to counteract what he brings and this means that he will still have a significant effect on opponents.
There is no reason to think that Peppers won't have another great season this year and may be even better than he was last year.  With a year under his belt in the Bears defense and with the coaching staff having a better understanding of what he can and can't do Peppers may have somewhat of a breakout season with the Bears this year.
And the Bears defense may need that.
For More Great Chicago Sports Content
Follow us on Twitter at @chicitysports23 for more great content. We appreciate you taking time to read our articles. To interact more with our community and keep up to date on the latest in Chicago sports news, JOIN OUR FREE FACEBOOK GROUP by CLICKING HERE