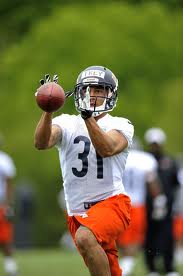 Frey is in the second year with the Bears.
BOURBONNAIS- With Kelvin Hayden now out for the season with a torn hamstring, the Bears need to turn to plan B at the nickel back position on defense. The good thing is the Bears already have plan B amongst their ranks.
The Bears will look no further then second-year cornerback Isaiah Frey. Frey has been earning his keep ten fold during training camp this year. Drafted in the sixth round out of Nevada in 2012, Frey came into this year's camp with a chip on his shoulder.
The Bears placed Frey on the practice squad last season, and he was never elevated to the active roster despite the fact that there quite a few injuries in the defensive backfield. But the 23-year-old never let it get him down. He took that learning experience and translated it into motivation to work harder and to get better as a player.
When Marc Trestman was hired to be the new head coach of the Bears earlier this year, Frey took it as a new lease on life. He participated in the Bears rookie minicamp in May and made the most of his opportunity. Trestman along with defensive coordinator Mel Tucker were impressed with Frey's body of work.
He continued to turn heads during the full team workouts that followed towards the end of the Spring. When the Bears got started at Olivet Nazarene a couple weeks ago, Frey was a completely different player.
He was the first player to pass the conditioning tests and he came in better shape than he was last year. When Kelvin Hayden initially went down with his injury last week, Frey was immediately put into the nickel package. It was believed that this would only be temporary as everyone hoped that Hayden would eventually return.
Now that Hayden is done for the year, Isaiah Frey now gets his big chance to earn a roster spot in September. His big audition will begin this Friday night when the Bears open up the preseason at Carolina.
Follow me on Twitter @GabeSalgado82