In what shouldn't surprise anyone who knows anything about sports, Chicago Cubs' pitcher, Carlos Zambrano, threw another one of his tantrums. After allowing five home runs to Atlanta Braves and being ejected after throwing two inside pitches at Chipper Jones, Zambrano did what he does best: storm off the field in disgust.
Zambrano apparently told club staff that he was retiring after the ejection. Sadly, two hours later, Zambrano's agent made it clear that his client was not going to retire, and, instead, the Cubs put Zambrano on the disqualified list for 30 days.
Cubs' general manager, Jim Hendry, said that it was the harshest punishment without actually releasing Zambrano. My question is: Why didn't Hendry release Zambrano?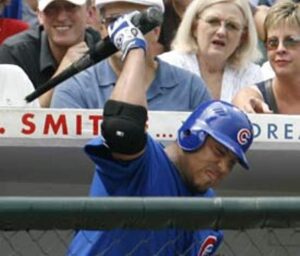 Zambrano has a history of being a loud-mouth arrogant and ,I'd say, a very narcissistic player who has had some good years, but will, no doubt, be remembered as an overrated baseball player. It amazes me how an orphan-adopting and church-building person off the field can be become such a menace on the field.
There are a handful of players in every major league sport that act like this, but still get jobs from teams. The Cubs being one of these teams when they signed Milton Bradley, a player known to almost always start controversy, after he had a few good years. We all know how that ended.
What these guys(and most players who fall into this category) have in common is they usually had one or few good seasons and, because of that, teams are willing to take the risk.
I always found that to be disgusting. Has anyone or any team in sports have dignity anymore? I can understand that teams want to win, but bringing and thinking these players will changes who usually cause more problems than help solve the team's problems is really asinine.
I totally believe in giving people second chances, but there comes a point where you must draw a line.
You would think the Cubs are already embarrassed enough to have not won a World Series in 103 years that they would think twice before signing players that have a knack of embarrassing the teams they play for. While Zambrano started off very strong in his early seasons, he slowly progressed into a completely unstable baseball player. This incident was nothing new. Things like this had been happening for a few years now, and it's finally coming back to bite the Cubs in the ass.
It's time release Zambrano and eat his $19 million salary. It could be the beginning of a much-needed clean-up if the Cubs ever want to win a World Series again.
For More Great Chicago Sports Content
Follow us on Twitter at @chicitysports23 for more great content. We appreciate you taking time to read our articles. To interact more with our community and keep up to date on the latest in Chicago sports news, JOIN OUR FREE FACEBOOK GROUP by CLICKING HERE