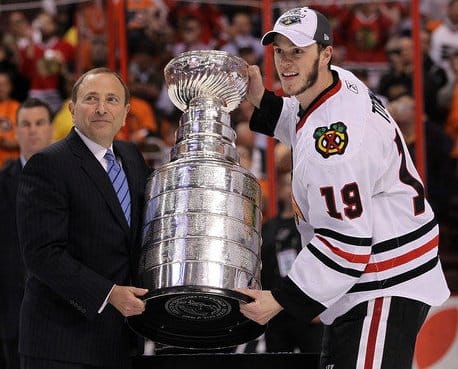 During his press conference today at the United Center, coach Joel Quenneville announced that captain Jonathan Toews would be sidelined 2 weeks with a shoulder injury which he suffered in last night's loss to St. Louis.
In the 1st period, Toews was checked and lost his balance as he went flying into the boards. Video showed him grabbing his shoulder soon after crashing into the wall, and he gingerly exited the ice. Toews never returned to the game, creating speculation that the injury was more than minor.
This two week stretch will have Toews missing approximately 7 games. With games against the Sharks, Kings, and Avalanche in that stretch, it is critical that the other stars on the team pick up the slack. Kane, Hossa, Sharp, Keith, and Seabrook all need good stretches while the Captain is out because this stretch could very well make or break this season.
With the first game in weeks where the whole team was together and healthy, the Hawks offense looked sloppy and dis-interested against St. Louis. The defense was careless with the puck, and turnovers killed them. Perhaps the only bright spot was Marty Turco who turned in a 40 save performance and really kept the Hawks in the game.
Toews is the heart and soul of this team and his absence will definitely be felt. With their #1 leader out, it's time for players like Hossa and Sharp to use their veteran experience to really grab hold of this young team, and continue this hot streak they are on.
Other Bullet Points:
Marty Turco will get his 3rd straight start Thursday vs. San Jose
Niklas Hjalmarsson and Troy Brouwer did not practice today after both acquired injuries in the St. Louis game. Both returned to the game, so it's believed they will be ok.
-Tbo41fan
For More Great Chicago Sports Content
Follow us on Twitter at @chicitysports23 for more great content. We appreciate you taking time to read our articles. To interact more with our community and keep up to date on the latest in Chicago sports news, JOIN OUR FREE FACEBOOK GROUP by CLICKING HERE